Save for All-Star Games, Alex Rodriguez and Ichiro Suzuki never played for the same team at the same time until Monday night.
That wasn't by choice, particularly. It's just the way things happened. Ichiro and his Orix Blue Wave team came from Japan to spring training in Arizona in 1999 and worked out some with the Seattle Mariners, at which time he and A-Rod struck up a friendship.
They talked about playing together, and it almost happened. But the winter when Ichiro became the first Japanese position player in the major leagues, signing with Seattle before the 2001 season, was the same time Rodriguez left the Pacific Northwest in pursuit of the (at the time) largest contract in baseball history: 10 years and $252 million with the Texas Rangers.
On Monday, the long talked-about reunion happened. The Yankees traded two unproven pitchers to the Mariners in exchange for Ichiro, who was promptly put in the lineup in right field by manager Joe Girardi, who had him hitting eighth.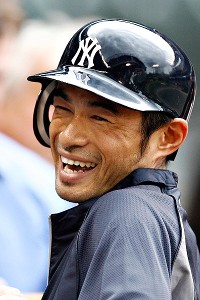 Joe Nicholson/US Presswire
Alex Rodriguez said a smile returned to Ichiro's face on Monday.
Ichiro got a massive standing ovation from the nearly 30,000 in Safeco Field before his first at-bat, stepping out of the batter's box, removing his helmet and bowing to the fans for whom he'd played for 11½ seasons. Then he stepped in the batter's box and promptly singled, then stole second base.
Although the Yankees didn't get a run out of it, Ichiro put them in position to score one, and that's what the club was looking for when they traded for the 10-time All-Star.
Just ask A-Rod, whose solo homer off Steve Delabar in the eighth inning was the final run for the Yankees in a 4-1 win that ended a four-game New York losing streak.
"This trade is a shot in the arm for Ichiro,'' Rodriguez said. "And it's a huge shot in the arm for us. It's a big trade, and that's one of the perks you get playing for this organization."
Ichiro was a fading star playing for a team of kids in Seattle. In New York, he'll be among equals. And that, Rodriguez said, will bring life into his game.
"No disrespect to the organization he was playing for, but he's coming to an environment that's different," the third baseman said. "We're in first place. We expect to win. We know he can help. We just want Ichiro to go out and have fun.
"We know each other pretty well. And I haven't seen him smiling this much in three years."
And even batting in the bottom third of the Yankees lineup isn't a problem for Ichiro, even though he's always batted at the top of the lineup in a 20-year career dating back to his time in Japan.
"I'm coming here wanting to help this team win games," Ichiro said through a translator. "Wherever in the [batting] order that is, it's OK."
The key Japanese contribution to the Yankees' cause Monday didn't come from Ichiro, as it happened. Hideki Kuroda brought four days of one-run losses in Oakland to an end with seven innings of three-hit baseball. He walked one, struck out nine and won for the fourth straight time and for the seventh time in his past eight decisions.
"Back in April [Kuroda got off to a 2-3 start], he was trying to prove himself here," Girardi said. "Now he's just pitching."
As for Rodriguez himself, his homer was just his second since June 26. He said that he feels he's getting closer to being his old self all the time.
"The last 10 days or so, I've been feeling a lot better at the plate," he said. "I've been working with Kevin [hitting coach Kevin Long] to the point where I'm in better position to do some damage when I'm at the plate."
Rodriguez missed having a two-homer game by only a few feet. His double in the fourth inning hit more the halfway up the wall in right-center. And while it didn't go out, what it did do was start the decisive three-run rally against Mariners starter Kevin Millwood.
"For the most part he threw quality stuff," Rodriguez said. "When he got the ball up, we hit it. This was a big game for us after Oakland."
If Ichiro pans out the way Rodriguez seems to think he will, it could turn out to be one of the big days of the 2012 Yankees season, too.