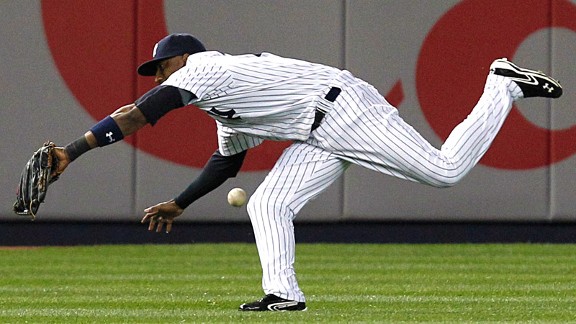 AP Photo/Kathy Willens
Let's start with what Brian Cashman told me. Eduardo Nunez is playing shortstop at Triple-A after being out since May with a thumb injury. When I pressed Cashman if Nunez could be an option as a righty platoon guy to go along with Eric Chavez, Cashman said it is "not on the radar at the moment."
In other words: You're telling me there is a chance.
The Yankees sent Nunez down in May because he looked lost on defense. They wanted him to go to Triple-A and just play short to regain his confidence. Eventually, he might have played some third and some outfield again. Instead, he hurt his thumb and hadn't played until this week.
#26 SS
New York Yankees
2012 STATS
GM

20

HR0

RBI5

R7

OBP.356

AVG

.294
So now he's just coming back and is not ready to be called up just yet, but he seems like a viable option to platoon with Chavez. The Yankees are still very high on Nunez, so the question is: If not now, when?
If Nunez can't be an option when A-Rod is down for six-to-eight weeks, then he will only be a Yankee if Derek Jeter were to get hurt. Or, at the least, he can only be Jeter's backup, and nothing more.
My sense is that Cashman doesn't want to put any extra pressure on Nunez. The Yankees want to build him up. To me, after a little time at Triple-A, this seems like an opportunity to bring Nunez back to the bigs so he can ease back into a role, and possibly become important again.
UP NOW: Jayson Nix makes his own statement. Here are the highlights . Wally Matthews has Cashman saying that Chavez is the man with A-Rod out.
ON DECK: Katie Sharp with an always fun YankeeMetics at 10:30 a.m. Wally and I will get you ready for Yanks-Sox on Friday.
IN THE HOLE: The pitching matchups starting Friday night against the Red Sox. Phil Hughes (9-8, 4.09) vs. Aaron Cook (2-3, 3.50). On Saturday, CC Sabathia (10-3, 3.30 ERA) vs. Jon Lester (5-8, 5.46). And Sunday night, Hiroki Kuroda (10-7, 3.34) vs. TBA (0-0, 0.00 ERA)
QUESTION OF THE DAY: Do you want to see Nuneee at third this year?