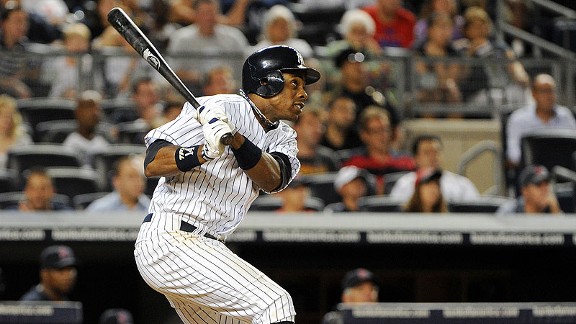 Christopher Pasatieri/Getty Images
After Phil Hughes threw 28 pitches in the first inning, Joe Girardi wondered if the pitcher could give him a lengthy start. After Hughes had gone five innings, Girardi told catcher Russell Martin to just get Hughes through the sixth. Instead, Hughes did his manager one inning better, scattering three solo homers among five hits and allowing the Yanks to cruise to another win over the Red Sox.
Hughes gave up the three solo homers to Dustin Pedroia, Carl Crawford and Jarrod Saltalamacchia in the first four innings. He admits when the bases are empty he is looking to throw strikes with his fastball.
"When guys are on I tend to throw my off-speed stuff a little bit more and make different pitches," Hughes said. "Like I said, with nobody on the last thing I want to do is walk guys and that can lead to big innings."
Hughes picked up his 10th win, which means the Yankees have four starters with double-digit victories for the first time since 2003, when Roger Clemens, Mike Mussina, Andy Pettitte and David Wells turned the trick.

Beyond that, Hughes ended the night throwing 110 pitches and was pretty dominant in his final three innings, allowing just a walk in that span.
CHAVEZ SAYS HE IS OK:After being nailed high on his right ankle in the eighth, Eric Chavez said he will be OK. Girardi was in more of a wait-and-see mode, which makes sense considering Chavez's fragility. Chavez said he is unsure if he will be available to pinch-hit on Saturday or Sunday. He added it is as good of a time as any to have a bump because he wasn't due to start the next two games against the left-handed starters.
FATHER TEX: There was praise everywhere in the postgame for Mark Teixeira's hustle in the first that allowed him to beat out what could have been an inning-ending double play. From Bobby Valentine to Girardi to Teixeira's teammates, there were kind words for Teixeira. But, who really should be saluted for Teixeira doing the most basic of baseball fundamentals?
His dad.
It was father Teixeira who wouldn't get mad at young Mark for striking out or making an error, but if he didn't hustle.
"That's when he would get on me," Teixeira said.
Also Mike Aviles, playing in the shift, took too long to make the relay play, allowing Teixeira to showoff his, umm, speed. A batter later, Raul Ibanez went deep.
"After the home run, you realize that was a three-run play," Teixeira said.
GRANDY MAN: Curtis "I'm not a home run hitter" Granderson now has 69 homers since the start of 2011, which is one fewer than Jose Bautista, who has more home runs than anyone. Granderson extended the lead with an eighth-inning grand slam.
TIME OUT: The 2:41 game time was the quickest Yanks-Sox game since September 11, 2005. That 1-0 game went 2:29. Friday night may have beaten that mark if not for the Yankees' extended four-run eighth.