With the Yankees down 6-4 in the eighth inning Saturday night, Mark Teixeira took longtime nemesis Vicente Padilla deep into the right-field seats for a game-tying, two-run home run.
Teixeira then uncharacteristically watched the ball fly out of the park and took his time crossing the plate.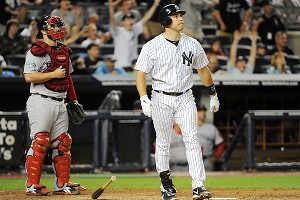 Christopher Pasatieri/Getty Images
Mark Teixeira admires the flight of his game-tying home run.
On July 6 in Boston, Teixeira hit a go-ahead, seventh-inning triple off Padilla. After the game, Teixeira said:
"He doesn't have too many friends in the game. Guy throws at people. Fact of the matter, I'm not saying anything that's news."
Padilla fired back.
"In this sport, as competitive ballplayers, we get pretty fired up," Padilla said, according to NESN.com. "So I think, maybe, [Teixeira] picked the wrong profession. I think he'd be better off playing a women's sport."
Padilla and Teixeira have a feud that dates back seven years. Teixeira homered in his initial two at-bats against Padilla in 2005, then went hitless in his next eight at-bats against Padilla, walked four times and had been hit three times before his July 6 heroics.