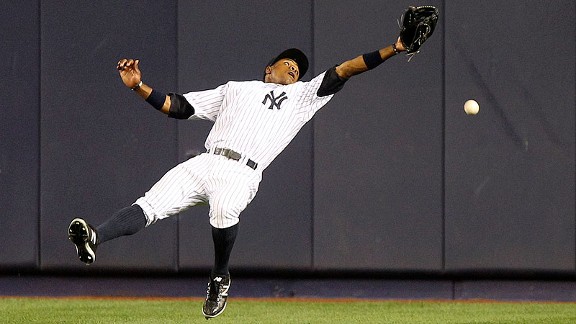 AP Photo/Seth Wenig
This ninth-inning miscue by Curtis Granderson allowed the go-ahead run to score.Curtis Granderson stood in front of his locker, and rather stoically explained how Pedro Ciriaco's seemingly easy liner turned into an adventure and ultimately a Yankees loss Saturday.
Playing deeper than normal because of the Yankees' "no doubles" defense with a man on, Granderson twisted around on Ciriaco's ninth-inning liner and could not recover.
"I didn't get the best read on it," a seemingly emotionless Granderson said after the 8-6 loss to the Red Sox. "The great thing about this game is you get to out there tomorrow."
Granderson appeared a bit stunned on the field after the play, but following the game, he explained very matter-of-factly what had happened.
"I didn't think it was hit as hard as it was," Granderson said. "Then by the time I tried to go back out, I couldn't get enough speed."
Before Granderson cost the Yankees the game with what was ruled a triple but was really an error, he almost was a hero. In the eighth, prior to Mark Teixeira's dramatic homer, Granderson nearly tied it off Vicente Padilla but pulled two near-homers foul. He was just a little out in front of the pitches.
"I thought both of them had a shot," Granderson said. "But right away, it was just a matter if they were going to stay fair or not."