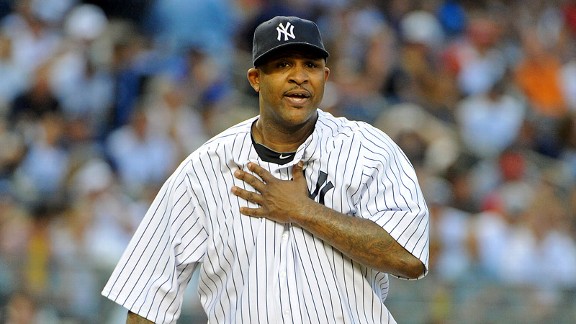 Christopher Pasatieri/Getty Images
CC Sabathia was fortunate to get a no-decision instead of the loss on Saturday night.Lately, the Red Sox have had CC Sabathia's number.
In his last six starts against Boston -- dating back to last season -- the Yankees' left-handed ace is 1-4 with a 6.81 ERA.
On Saturday night, Sabathia gave up six runs on eight hits in six innings. He finished with a no-decision as the Yankees rallied to tie before losing 8-6.
"I think they are just being patient, making me throw a lot of pitches," Sabathia said. "It's a case of me not making pitches and them having good at-bats."
Sabathia had to wait through a two-hour, four-minute rain delay before taking the mound.
"I'm pretty laid back and pretty chill during the delay," he said.
It didn't help. Sabathia allowed three first-inning runs on four hard hits. He followed with three consecutive scoreless frames, but surrendered a two-out, three-run homer to Adrian Gonzalez in the fifth that gave the Red Sox a commanding 6-1 lead.
"I don't know," manager Joe Girardi replied when asked if he thought Sabathia was affected by the delay. "It just looked like he made some mistakes with his fastball early over the plate, and then he settled down. And in the fifth, he got two outs and then left a slider up in the zone. When he got in trouble, it was command issues."
• Catcher Chris Stewart hit his first homer as a Yankee in the third inning. It was his first homer since Sept. 20, 2011, with San Francisco and snapped a 105 at-bat homerless drought.
• Jayson Nix hit his first homer at the Stadium since May 19 vs. Cincinnati.
• Ichiro Suzuki has hit safely in all five of his games with the Yankees.