Well, that didn't take long.
Joba Chamberlain gave up a home run Wednesday, on just his second pitch of the season.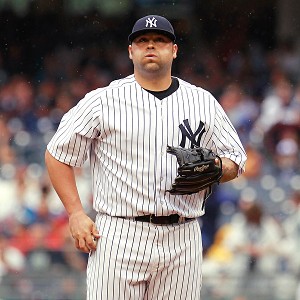 Mike Stobe/Getty Images
This probably isn't how Joba Chamberlain had envisioned his return to the big leagues.
J.J. Hardy took Chamberlain's first pitch -- a 93 mph fastball -- for a called strike and drilled Chamberlain's second offering -- an 85 mph slider -- off of the top of the wall in left.
Fortunately for Hardy -- unfortunately for Chamberlain -- the ball landed on the back end of the top of the wall and took a high bounce into the seats.
The homer didn't hurt the Yankees, who routed the Orioles 12-3. Chamberlain ended up pitching 1 2/3 innings, allowing two runs on four hits, with one walk and no strikeouts.
Chamberlain, 26, was activated on Tuesday after struggling through several major injuries.
The right-handed reliever hadn't pitched in the major leagues since June 5, 2011. Since then, Chamberlain had undergone Tommy John surgery and an appendectomy, dislocated his right ankle and torn his right MCL.
Joe Girardi said Wednesday that he had hoped to use Chamberlain without any limitations for the rest of the season.