Hiroki Kuroda only surrendered one run Saturday afternoon.
That made him the second-best starter in the game.
Despite a great outing, Kuroda was outdueled by Mariners ace Felix Hernandez in the Yankees' 1-0 loss at Yankee Stadium. Kuroda gave up just one run on seven hits over 6 1/3 innings, but the Yankees managed just two hits against Hernandez, a former Cy Young winner.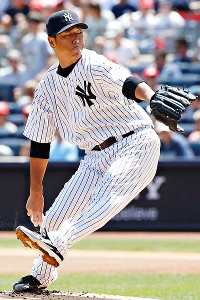 William Perlman/US Presswire
Hiroki Kuroda lost for the just the second time since late May.
"Obviously he's a great pitcher and I just wanted to minimize my damage," Kuroda said through a translator. "I believe this offense is going to come through at the end, and for him to pitch as long as he was pitching, obviously he was going to throw a few mistake pitches -- and he didn't today. That's a little bit frustrating, but it is what it is."
Kuroda has been pitching quite well for the Yankees over the past two months, and he continued that Saturday against Seattle. The Mariners were able to put runners in scoring position against the veteran, but Kuroda worked his way out of such jams. Seattle was just 1-for-7 against Kuroda with runners in scoring position and finished 1-for-9 on the day.
His only blemish, which proved to be the biggest at-bat in the game, was in the second inning as he served up a two-out single to Mike Carp that gave Seattle an 1-0 edge. Catcher Russell Martin said Kuroda wanted to "front door" a sinker but it ended up too much over the plate, as Carp drove it the other way to plate the only run on the day.
"I wanted to attack aggressively and rather than give up a walk, I wanted to attack the zone," Kuroda said. "He got a hit. That's what it was."
While the loss dropped Kuroda to 10-8 on the year, the pitcher has been the victim of a lack of run support over his last two games. Against Boston on July 29, he gave up just two runs over eight inning but was saddled with a no-decision. Sunday, he fell for the first time in the nine games when he's allowed one earned run or less.
"It's baseball. We're battling out there, we're trying to score runs for him. He just has to keep doing what he's doing," Martin said of the lack of runs. "He can't grab a bat and grab a helmet and go create some offense. He's got to just keep pitching, and I think he's going to just keep doing that.
"Obviously you want the (win) but as long as he's pitching well and he's doing those things, that's all he needs to focus on."