Derek Jeter went into the specifics about Felix Hernandez's dominant outing Saturday, yet he really one needed one sentence to capture what happened in the Bronx.
"Today he was better than us, that's pretty much all you can say," Jeter said.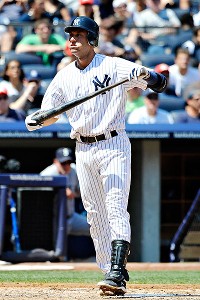 AP Photo/Kathy Kmonicek
Derek Jeter, like the rest of the Yankees, couldn't solve Felix Hernandez.
Indeed he was.
After Hernandez dominated in Saturday's 1-0 Yankees loss, the home team commended Seattle's pitcher for an outing that some said was the best by an opposing pitcher they had faced all season. Hernandez gave up just two hits in a complete-game shutout.
"I'd have to say (that was the best). That was pretty impressive right there," Yankees catcher Russell Martin said. "He was getting ahead with everything. He was throwing his fastball and then later in the game he started us with some offspeed and just kind of kept us in between the whole game."
The Yankees credited Hernandez for using his full complement of pitches, as well as getting ahead in the count. He threw 69 of his 101 pitches for strikes and threw a first-pitch strike to 19 of the 30 batters he faced. The Yankees didn't record a hit over the final six innings and managed just four base runners against the former Cy Young winner.
They had just one at-bat with a runner in scoring position, in the first, but Mark Teixeira popped out to end the inning. Once Seattle scored its lone run in the second, that would be all the support Hernandez needed as he improved to 4-1 in this ballpark.
"We got one shot today," Yankees manager Joe Girardi said. "That was it. Normally you get more than one, but we got one today and that's how good he was."
FELIX STATS: Hernandez has two two-hit shutouts at the new Yankee Stadium. No other pitcher has one. ... His 1.13 ERA at this park is the best for any pitcher with two starts. ... He is one of three pitchers in live-ball era, along with Jim Palmer and Billy Hoeft, to throw two shutouts allowing two or less hits at Yankee Stadium (Stats courtesy of ESPN Stats & Information).
ICHIRO'S STREAK: Left fielder Ichiro Suzuki (1-for-3) has hit in each of his first 11 games as a Yankee, the longest streak for a player after being acquired in a trade during the season, according to the Elias Sports Bureau. Ichiro has stroked exactly one hit in each of his 11 games, which is the franchise record for consecutive one-hit games.
STREAK ENDS: The Yankees' streak of 21 straight home games with a home run came to an end. They fell two games short of tying the franchise record of 23 straight games in 1963.
YANKS STATS: The Yankees have lost their last seven one-run games, their longest losing streak in such games since 1995, per Elias. ... The Yankees are 5-10 in their last 15 games. ... They are now 0-37 when trailing after eight innings and 2-87 over the past two years.