Mariano Rivera was back at Yankee Stadium on Wednesday for the AC Milan-Real Madrid friendly.
Rivera, who tore his ACL on May 3, performed the pregame coin toss before Real Madrid's decisive 4-1 victory.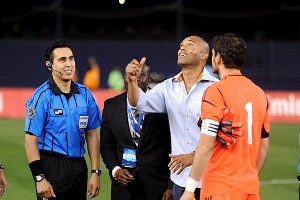 Joe Camporeale/US Presswire
Mariano Rivera performs the coin toss Wednesday.
After the match, the 42-year-old closer spent some time in the Real Madrid locker room.
"I had a good time. It was a special experience in that we were able enjoy some time with the family," Rivera told a small group of reporters in Spanish.
He declined to provide an update on his health, other than to say, "I feel good,"
The Yankees do not expect him to return this season.
"Nothing's ever 100 percent, but I would say it's 99 percent, 99.9 percent (that he's not coming back in 2012)," Joe Girardi said last Sunday.