Slowly but surely, Freddy Garcia has become a dependable and even valued member of the Yankees' starting rotation.
Never spectacular but rarely less than steady, Freddy gave the Yankees six innings of five-hit, two-run ball in earning his sixth win of the season in tonight's 10-4 victory over the Blue Jays.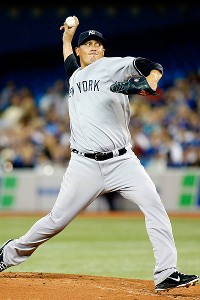 John E. Sokolowski/US Presswire
Freddy Garcia"This is what he did for us last year so I'm not really surprised,'' Joe Girardi said. "You know that if you give him a few runs, you've got a good chance of winning the game. He's going to keep you around, and that's important to have that feeling when you go out there every day. He did a nice job.''
Still, the manager saw fit to yank Garcia before the seventh inning, even though he had thrown just 78 pitches, because it was a one-run game at the time -- Yankees leading, 3-2 -- and he would have had to face Kelly Johnson, who had had a homer and an RBI double in his two at-bats, as the first batter of the inning.
"That's the manager's decision,'' Garcia (6-5, 4.85) said. "I want to be out there, but when they tell you you're finished, you're finished. That's what they do. And when they make a decision, you're already out of the game. But I feel fine, hopefully I continue to pitch the way I've been pitching, and try to win.''
Conventional wisdom says that if and when the Yankees get to the postseason, Garcia and Ivan Nova would be the odd men out of the playoff rotation. But for a guy who was out of the regular-season rotation in May when Andy Pettitte came back, October is way too far ahead to worry about.
"I feel pretty good about my spot,'' he said. "When the season started, I was struggling, and they sent me to the bullpen, but things happen for a reason. I (came) back to the rotation again, and I'm doing my job. That's why I'm here.''