In an interview with ESPN New York's Ian O'Connor, Yankees GM Brian Cashman once again put a sledgehammer to the idea that Mariano Rivera could come back this season.
Most Memorable Mo-ments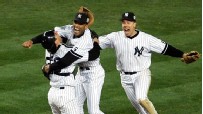 ESPN New York takes a look back at Mariano Rivera's greatest saves.
Photo Gallery

Top 50 Yanks

Rivera threw long toss on Monday.
"Yeah, that means nothing, his arm is healthy but his knee is not going to be healthy enough to come back this year," Cashman said.
O'Connor pointed out that Joe Girardi keeps saying that it is 99.9 percent that Rivera is done for the year -- not 100 percent.
"It's a mistake to even breathe it, with all due respect," Cashman said. "I know Girardi said it, he's not coming back. I can't say it any which way but direct. It's just not going to happen. The only way he comes back is if everybody's willing to see him carted off the field again, because ultimately he would be so vulnerable to re-injuring that ligament that it would be detrimental to bring him back."
OK, story over.