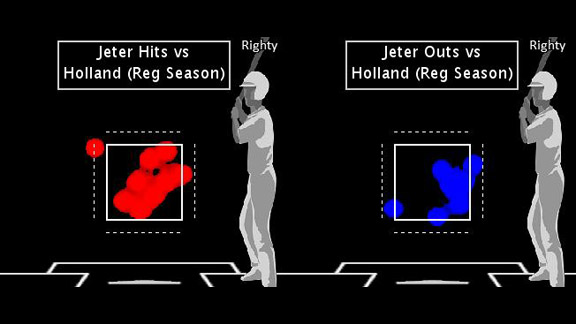 ESPN Stats & Information
Derek Jeter has dominated his matchup with Derek HollandIvan Nova Stats to Watch
After a month of subpar starts, Nova bounced back on Saturday to throw seven-plus innings of two-run ball with 10 strikeouts against the Blue Jays.
One of the most encouraging stats from that game was that he allowed only one extra-base hit, a double in the eighth inning. Nova still leads the majors in extra-base hits allowed with 72.
Nova went to his curveball often against Toronto, throwing the pitch a career-high 44 percent of the time. The Blue Jays struck out six times against his curve and put just three of them in play, with each resulting in a ground ball out.
This hook-heavy strategy might be one he should repeat today. In the four starts this season where at least one-third of his pitches have been curveballs, Nova is 3-0 with a 1.95 ERA and 6-to-1 strikeout-to-walk ratio.
However, the Rangers are one of the best-hitting teams against curveballs from righties with a .276 average that ranks as the second-highest in the AL. Five regulars in the Rangers lineup (David Murphy, Ian Kinsler, Josh Hamilton, Adrian Beltre, Elvis Andrus) are all hitting over .300 in at-bats ending in curves thrown by right-handers.
Another positive takeaway from Nova's start against Toronto was his ability to pitch effectively from the stretch. He allowed just two singles in 11 at-bats with runners on base; in his previous five starts since the break, opponents hit .417 and slugged .604 with men on base.
Nova has struggled in his matchups against the Rangers at Yankee Stadium with an 8.10 ERA and 1.90 WHIP in 10 innings over two starts last year. In his lone career start at Rangers Ballpark, which also came in 2011, he pitched 7⅓ innings of one-run ball with two hits allowed.
Derek Holland Stats To Watch
Holland has had issues with the long ball recently, allowing 10 home runs, all to right-handed hitters, in his last five starts. His ERA over that stretch is 5.71, and would be higher but for the .225 opponents batting average on balls in play (his line-drive rate is 13 percent).
After giving up three home runs with his changeup in two starts against the Angels and Red Sox, Holland has put that pitch aside in his last three outings.
His slider was very sharp in his last start against the Tigers (in which he allowed one run and three hits in 7⅔ innings). He retired seven hitters with it (including a double play), and got Miguel Cabrera with it twice.
Matchups to Watch: Derek vs Derek
The Yankees have three hitters who have hit Holland well in the past: Derek Jeter (9-for-16), Mark Teixeira (7-for-18 with three home runs) and Robinson Cano (7-for-19).
Derek Jeter Highest BA vs Pitcher
Minimum 15 AB Against (Regular Season)
Jeter's .563 regular-season batting average against Holland is tied for his second-highest against any pitcher against whom he has at least 15 at-bats against. He has hits in each of his last five at-bats against him.
Give Holland credit for trying. Of his 61 pitches to Jeter, 36 (59 percent) have been in the strike zone and nearly three-quarters have been fastballs.
As you can see in the heat map above, Holland has repeatedly tried to come inside against Jeter. Sometimes it works, particularly when Holland can get right on the inner edge of the strike zone, but much of the time it does not.