We thought we'd try something different for this installment of What2Watch4: Rather than look at the key notes for each of the starting pitchers, we're going to focus on four of the hitters, two from each team, and look at their strengths and weaknesses heading into this series.
How do you get Derek Jeter out?
Jeter enters tonight's game with a 12-game hit streak and has been one of the league's top hitters this month with a .373 batting average.
Derek Jeter During Hit Streak
Jeter has been even better in August against lefties, with 10 hits in 23 at-bats (.435). If the southpaw Franklin Morales wants to get Jeter out tonight, he should to try to come inside against The Captain.
Of the 13 outs Jeter has made against lefties in August, 10 have come on pitches located on the inner half of the plate or further inside, and all 10 of those have been ground-ball outs.
-- Katie Sharp
How do you get Nick Swisher out?
Swisher has had success against Red Sox southpaws the last two seasons, as noted in the chart on the right.
Nick Swisher vs Red Sox
Last 2 Seasons
He's particularly hurt them when they've tried to come inside against him, netting six hits in nine at-bats that ended with a pitch over the inner-half of the plate width-wise, almost never chasing those thrown out of the strike zone.
The best success that lefties have had against Swisher is when they keep the ball down.
Since the start of the All-Star break, Swisher has seen 76 pitches that were in the lower-third of the strike zone or lower height-wise and does not have a hit.
-- Mark Simon
How do you get Adrian Gonzalez out?
Gonzalez has been one of the hottest hitters in baseball since the All-Star break, batting an AL-best .378. He's hit well both against lefties (.333) and righties (.403), and appears to have few holes in his swing right now.
Adrian Gonzalez with 2 Strikes
Since All-Star Break
Phil Hughes could try to bury a pitch low and out of the strike zone, where Gonzalez is just 4-for-25 (.160) since the break. But if he misses his location, watch out. Gonzalez is hitting .576 and slugging .909 on pitches at the knees in the strike zone.
Hughes' best bet might be to go with his signature high fastball. Gonzalez is hitting .214 on fastballs thrown in the upper third of the zone or higher in the second half of the season. However, a mistake could be costly. Two of the three hits Gonzalez has on those pitches have been home runs.
-- Katie Sharp
How the do you get Pedro Ciriaco out?
Take a look at the heat map on the right. It may be the strangest one we've come across all season.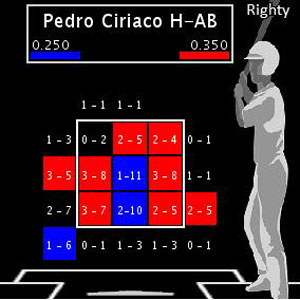 It's not a misprint: Ciriaco can hit almost everything, except for the pitch thrown over the middle of the plate.
That heat map shows how he's fared against both righties and lefties. The one for only righties has one other weak spot, middle-in.
But Yankees pitchers should be forewarned. The 18 outs in the 1-for-11 and 2-for-10 areas are not the result of swings-and-misses. Ciriaco can put the ball in play.
The hits just haven't fallen for him yet.
The optimum strategy at this point seems to be to pitch him down and away, though it's a high-risk, high-reward scenario.
Ciriaco has had seven at-bats end with a pitch thrown lower-third, outer-third (or further away) and netted five hits. But he also misses on those swings 50 percent of the time.
-- Mark Simon