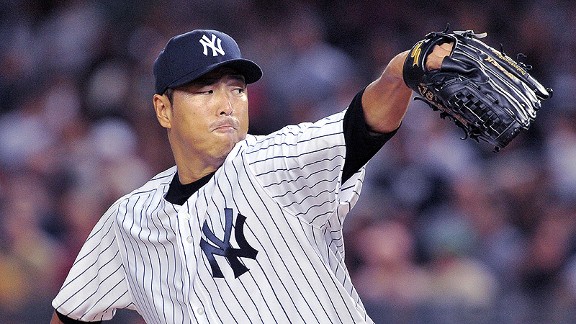 Jason Szenes/Getty Images
Hiroki Kuroda threw a pair of gems during the Yankees' seven-game homestand.When CC Sabathia went to the disabled list with an elbow injury, the New York Yankees lost the unquestioned No. 1 starter in their rotation.
But they found out that they have pretty a strong No. 2 in Hiroki Kuroda.
Kuroda was masterful against the Boston Red Sox on Sunday night, giving up one run on four hits and striking out four in New York's 4-1 win.
Kuroda retired 13 of the first 14 hitters he faced and then six of the next seven in in an utter domination of the Red Sox's lineup.
His lone mistake?
Hanging an 84-mph slider to Adrian Gonzalez in the sixth. Gonzalez deposited the pitch deep in the right-field seats for Boston's only run of the night.
Outside of that, Kuroda was mostly untouchable. Through a translator, Kuroda said he has focused on "what can I do to contribute and give my highest percentage for this team to win" when he's on the mound.
Mission accomplished.
The righty -- who tossed a two-hit shutout versus Texas in his most recent outing -- has provided a significant boost to a Yanks rotation that's missing Sabathia and Andy Pettitte.
"He's been unbelievable," Pettitte said. "He's not just throwing good games, he's gone out and dominated."
Added manager Joe Girardi: "We don't want guys to think ... that they have to do more than they're capable of doing, but Hiroki has pitched extremely well in the absence of CC."
You could argue that Kuroda has been Girardi's best starter this year.
Here's how: Kuroda has held opponents to three earned runs or less in each of his past seven starts, and he has thrown at least six innings in each of those seven starts.
Going further back than that, Kuroda has gone at least seven innings in 12 of his past 16 starts and 15 of 25 on the season.
The only reason his record stands at 12-8 is because he has received some shaky run support. He also had a shaky start: Kuroda went 3-6 with a 4.56 ERA in his first nine outings, but that seems like ancient history at this point.
"He has been on a tremendous role for us," Girardi said.