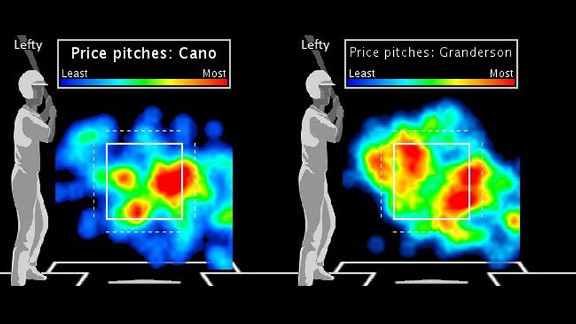 David Price has specific means of attacking the Yankees' best lefties.David Price has pitched 105 1/3 innings against the Yankees in his career. They'll see him for the 17th time in the last four seasons on Friday, matching the most they've seen any pitcher in that span (James Shields will one-up him with his 18th appearance on Saturday).
David Price vs Yankees
Career
They've seen the good Price, the bad Price, and everything in between.
With that in mind, what can some of the Yankees hitters expect when they face Price tonight?
Let's take a look.
14-for-48, 2 HR vs Price
Jeter has reached six times in 13 plate appearances against Price this season, with three hits and three walks.
The primary approach for Price has been to come down and/or in. Thirty-four of his 60 pitches to Jeter in 2012 have been on the inner-third of the plate. And 33 have been over the lower-third of the plate or below the knees.
Price has been able to get Jeter out six times with inside pitches, but when he has tried to get Jeter with something away it hasn't worked. All three hits are on outer-half pitches.
11-for-44, 1 HR, 44 AB vs Price
Price has a predictable pitch pattern to Cano. Nearly 85 percent of his pitches to Cano over the last four seasons have been fastballs.
This season, it has been all about keeping the fastball down in the zone. Of his 31 fastballs to Cano, he has thrown 22 in the lower half of the strike zone or below. When he gets it knee-high, he gets outs (he has gotten Cano out five times with a fastball to the lower-third of the zone this season).
Cano's approach has been to attack, especially the fastball on the inner-third of the plate.
Price has thrown 14 pitches to Cano over the inner-third or closer to him this season. Cano has taken 12 swings, missed none, and netted three hits and three outs.
8-for-43, 3 HR, 17 K vs Price
Price has done a fantastic job at keeping his pitches against Granderson right on the edges of the plate.
He has thrown 82 percent of his pitches to the inner-third or outer-third of the plate (or just off the plate) against Granderson over the last four seasons.
The same holds true for working up and down the strike zone. Price typically throws 35 percent of his pitches to the middle-third of the zone, height-wise.
Against Granderson this season, that rate is 23 percent (14 out of 61 pitches).
Price's pattern has been to work Granderson inside early (within the first two pitches), then try to get Granderson to chase something knee-high or below late in the count.
His finish pitch with two strikes could be on the inside or outside corner. Of his 23 to Granderson this season, only one has had a middle-third location, width-wise.
.375 BA, HR, 9 BB, 32 AB vs Price
Swisher had been a riddle for Price the past couple of seasons, reaching base 17 times in 29 plate appearances, but the results have been better in 2012, with Swisher reaching four out of 12 times.
That may have something to do with Price's choice of pitches. He has mixed in more sliders and changeups to Swisher, throwing his fastball a little less often (from 61 percent in 2009 to 2011 to 54 percent now). Swisher had reached 15 times and made just eight outs when a matchup with Price ended with a fastball.