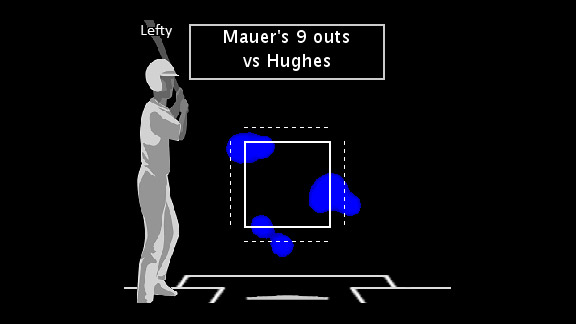 Phil Hughes stats to watch
Hughes has won three straight starts. He's only won more than three straight starts once in his career -- a five-start run in May/June, 2010.
If Hughes can win his last two starts of the season, he'll match his career-high of 18 wins, done in 2010.
Most HR Allowed in Season
Yankees History
His nine strikeouts in his most recent win over the Blue Jays were his most in a start in more than three months (he had nine against the Nationals on June 15).
Seven strikeouts have been the magic number for him this season. When Hughes has recorded at least seven strikeouts, he's 7-0 with a 2.44 ERA and gets misses on 26 percent of his swings.
In his other 22 starts, he's 9-11 with a 4.45 ERA. Hitters miss on about 18 percent of their swings.
The key to those high-strikeout starts is a swing-and-miss fastball. His four best strikeout games coincided with his best fastball miss rates this season.
Inside the Matchup: Hughes vs. Mauer
Mauer is 0-for-9 against Hughes in the regular season and you can see in the heat map atop this article that Hughes has done a nice job working the edges of the plate in getting Mauer out.
Hughes can get an edge on Mauer if he can throw him a first-pitch strike. Mauer rarely swings at the first pitch and Hughes has been great recently when he's been able to get up 0-1 in the count.
Opponents are 5-for-42 with 17 strikeouts and one walk against him after he reaches an 0-1 count in his last three starts. They are 7-for-22 with three walks when he falls behind 1-0.
Mauer has been most gettable this season against the outside pitch from a right-handed pitcher.
Captain streaking
My colleague, Katie Sharp, the most ardent supplier of Yankees notes in the ESPN Stats & Information group, points out that Derek Jeter, who enters with an 18-game hitting streak, has the Yankees' longest September hitting streak since Don Mattingly hit in 22 straight September games (as part of a 24-game streak in 1986).
She also alertly noted to our group that the Yankees are one win away from their 60th season with at least 90 wins. No other team is close to that total. The Giants rank second with 41 and are going for their 42nd tonight too.
Cano's slump
Yankees second baseman Robinson Cano is now homerless in his last 11 games, and is 8-for-45 in that span. Dating back further, he's hitting just .221 with a .393 slugging percentage since August 13.
Most of that damage has been inflicted by left-handed pitchers, but Cano is also 1-for-18 in the last six games in which he's faced a righty, as he will tonight.
Pitchers have done well recently attacking Cano down in the strike zone. Of the 17 times he's made an out against righties in that stretch, 12 have come on pitches in the lower-third of the strike zone or below.
That goes against a larger sample size. Prior to this slump, Cano was hitting .346 with 10 homers when a righty ended an at-bat with a pitch in that location.