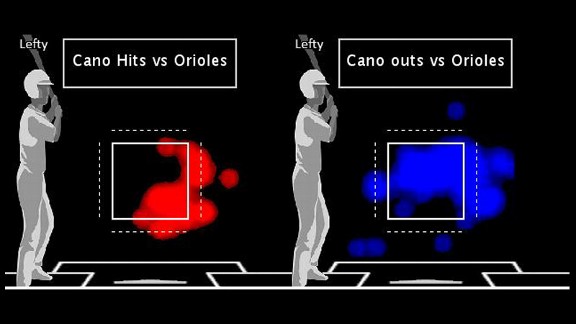 Almost all of Robinson Cano's hits vs the Orioles this season have come on outside pitches.
CC Sabathia Stats To Watch
The slider that makes Sabathia such a tough pitcher worked great for him in his last three appearances this season, netting him 27 outs and yielding only four baserunners.
Yankees vs Orioles
2012 Regular Season
The Orioles were able to hit this pitch, a little better than most teams, with an outs-to-baserunner ratio of 23-to-7 against in his three starts against them.
The Orioles missed on Sabathia's slider at a rate of about one of every three swings. Other teams in the majors missed it at a 45 percent rate.
The Orioles have three hitters who have historically given Sabathia trouble.
Adam Jones is a .341 hitter in 41 at-bats against him, with three home runs and (only) six strikeouts.
Robert Andino is 8-for-23 in his career against him with a home run.
J.J. Hardy is 7-for-17 against Sabathia, with a home run and three doubles. Hardy was 6-for-10 against Sabathia this season.
Jeter in Game 1
Derek Jeter has great numbers in the opening game of a playoff series. He's hitting .378 for his career in Game 1s, with five home runs and 27 runs scored.
Derek Jeter Career in LDS
Those numbers are even better when you narrow it down to his last nine Game 1s. In those, he has 19 hits in 38 at-bats.
Jeter hit .403 against the Orioles this season, including .375 against their right-handed pitchers. He's 7-for-22 in his career against Jason Hammel.
It will be interesting to see if the Orioles change their strategy against Jeter. They threw 78 percent fastballs (including cutters and sinkers) against him this season.
Robbie Cano, don'tcha know
No batter in baseball finished the season stronger than Yankees second baseman Robinson Cano, whose streak of nine straight multi-hit games is tied for second-longest by a Yankees player in the Live Ball Era (Bernie Williams had a 10-game streak in 2002) and the longest by any player since Kevin Youkilis had a nine-gamer for the 2007 Red Sox.
Robinson Cano
Postseason
The Orioles had a very specific approach for pitching to Cano, working him away, away, and further away. The heat map above shows that Cano was able to make that work, with 15 of his 20 hits coming on pitches on the outer-third of the plate or off the outside corner.
The Orioles actually had success when they changed course and worked him inside. Cano was 0-for-11 when an at-bat ended with a pitch on the inner-third of the plate, or off the inside corner. Oddly, he was also 0-for-9 on "middle-middle" pitches (belt-high, middle-third of the plate). He hit .282 with three homers and eight RBI in 18 games against the Orioles this season.
Cano is 8-for-23 with a home run in his career against Hammel.
Reynolds' all-around game
Orioles first baseman Mark Reynolds was a Yankees killer in 2012, hitting .294 with seven home runs, five doubles and 14 RBI in 15 games against them.
Mark Reynolds in September
Reynolds doesn't have the best history defensively, but his defensive success at first base at the end of the season was a significant boost to the Orioles.
The folks at Baseball Info Solutions, who chart defensive stats, had Reynolds with 58 "Good Fielding Plays," in the second half of the season. That's the most of any player in baseball.
The Orioles had 16 Defensive Runs Saved (a stat that factors in the ability to turn batted balls into outs with other skills, such as turning double plays and defending bunts) in September, fourth-most of any team in the majors.
Baltimore's defense had been charged with -21 Defensive Runs Saved from April to August.