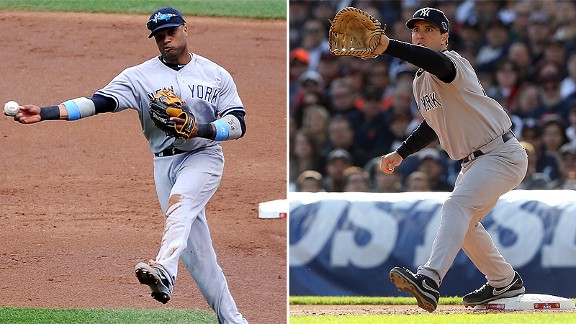 Getty Images
Robinson Cano and Mark Teixeira were terrific defensively in 2012.
The Gold Glove Awards voters provided a couple of Yankees with some consolation on Tuesday night.
After losing out last season, Yankees first baseman Mark Teixeira and second baseman Robinson Cano claimed American League Gold Glove awards at their respective positions this time around.
This marked the second time that the two won together. They also did so the other time that Cano won a Gold Glove, in 2010.
For Teixeira, it was his fifth Gold Glove Award. He previously won in 2005, 2006, 2009 and 2010. Teixeira is the eighth player to win at least five Gold Glove Awards at first base.
The all-time leader is former Cardinals and Mets first baseman Keith Hernandez with 11. Former Yankee Don Mattingly rates second with nine.
Cano joined Bobby Richardson, who won five times, as the only Yankees second basemen to win multiple Gold Glove Awards (the Gold Gloves have been awarded since 1957).
Teixeira also won a Fielding Bible Award as the best defensive first baseman in the majors this season.
He's a first-time winner of that honor, as voted on by a panel of media members organized by the stat-tracking group, Baseball Info Solutions (this writer is one of 10 voters, including ESPN's Doug Glanville, baseball writer Peter Gammons and sabermetrician Bill James).
Teixeira won seven of a possible 10 first-place votes to finish ahead of Adrian Gonzalez and Albert Pujols.
Cano finished third in the Fielding Bible Awards at second base behind Darwin Barney of the Cubs and Dustin Pedroia of the Red Sox, but was barely edged out for second place.
Both Teixeira and Cano led American Leaguers in their respective positions in Defensive Runs Saved. Teixeira had 17, four more than Adrian Gonzalez had during his time with the Red Sox (and one more than Gonzalez had overall).
Cano tied for the most Defensive Runs Saved at second base with Twins second baseman Alexi Casilla with 15, four runs better than Pedroia.
The debate over whether Cano was the most deserving this season is a good one. Some may argue that Cano doesn't always hustle to field balls that he should, but the numbers show otherwise when looked at over a full season.
Cano's big advantage over both Pedroia and Casilla in 2012 was that he fared significantly better than both in terms of the rate at which he turned batted balls into outs.
Baseball Info Solutions charts every batted ball hit and calculates how often each player on the field turns it into an out. It uses where the ball was hit and how hard the ball was hit and looks at how often the play should be made.
For example, it may rate a ball up the middle, near second base, as being one that a second baseman turns into an out 25 percent of the time. Cano made a lot of plays on balls up the middle, so he was rewarded for that repeatedly.
This results in a range rating, known as plus-minus in BIS' world.
Cano was a plus-22 at second base this season, second in the majors to Barney and well ahead of Casilla (plus-14) for third place.
If that's what you like, then this sort of recognition is justified, regardless of how mad you may be at Cano for his postseason struggles.