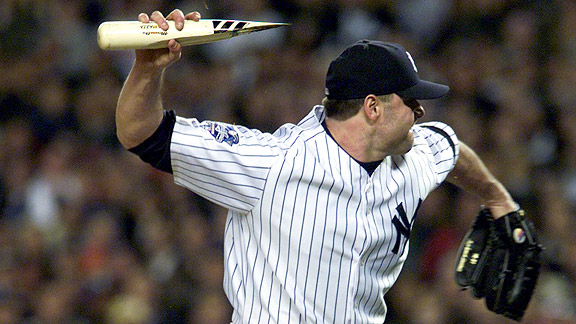 Matt Campbell/AFP/Getty Images
Roger Clemens, shown here in 2000, spoke about Mike Piazza's autobiography on Sunday.PORT ST. LUCIE, Fla. -- Roger Clemens on Sunday morning at Astros camp offered his take on Mike Piazza's autobiography -- specifically the pair of run-ins in which he threw a fastball and then a bat in Piazza's direction. Clemens said, via the Houston Chronicle:
"I just got a couple of texts that weren't too pleasant about [the book]. But, yeah, that's great if he's taking karate to protect himself. I don't know. The only thing I remember is, didn't he chase -- he needs to go get with Jesse Owens or somebody on his speed, I think. He chased some dude [Guillermo Mota] around the spring training site one time, didn't he, or something?
"... I think there was about three guys on the Yankees that wanted a piece of me more than [Piazza] did. He'd probably have to get in line. But in all seriousness, he's a -- I've gotten to know him at golf events. Todd Zeile, another good guy, and Robin Ventura -- I've been friends with him. Some of these guys, once you get to know some of them, they're fine.
"But, like I said, there was no intent there. And Mike's a good hitter and I think he hit every breaking ball I threw to him and he hit them hard. But he's not the first power hitter who's got me. So, we had some good times. But, yeah, somebody just texted me the Cliff's Notes of it, so we thought that was pretty good."
Here's the Post recap of Piazza's book:
The 98-mph fastball to his helmet could have been deadly.
"I truly believe that if I hadn't gotten my head down at the last instant, Clemens' two-seamer would have struck me in the eye and possibly killed me," he recalls.
The Yankees hurler called the Mets dugout to apologize during the game, but Piazza wasn't hearing it.
"I grabbed [the phone], threw it and said, 'Tell him to go f--- himself,'" Piazza said.
"Roger Clemens had near-perfect control. I wouldn't have batted an eye if he had just brushed me off the plate -- of course that's what he said he was trying to do ... But to stick it in my forehead, that's another story altogether."
Piazza tells how he mapped out a plan for revenge -- taking karate lessons and visualizing the next time they would go at it.
"I would approach with my fist pulled back. I figured he'd throw his glove out for protection. I'd parry the glove and then get after it," Piazza writes.