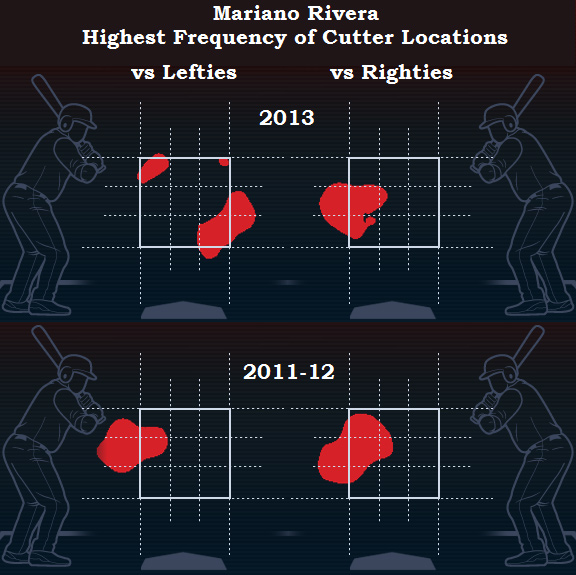 Illustration by Will Cohen, ESPN Stats & Information
Mariano Rivera is still the same old productive Rivera that he was prior to his knee injury.
He just has a different way of going about it.
Pitch selection and velocity
Rivera has always been known for living off his cutter. It is considered one of the premier pitches in the history of the sport.
Rivera appears to have decided that in his final campaign, he's going to be even more exclusive with the pitch than he has been in seasons past.
Through his first 17 appearances in 2013, he'd thrown it 246 times on 255 pitches -- 96 percent of the time.
Rivera appeared headed down that path last season, throwing 94 percent cutters prior to his injury.
Rivera showed his sinking fastball a bit more often from 2009 to 2011. He would throw the cutter 82 percent of the time then and the fastball at an 18 percent rate.
Rivera is throwing his cutter at an average velocity of 90.3 mph. That's about the same as last season's 90.5 and down about a mile-per-hour from 2011. After averaging below 90 miles per hour with it in his first three outings, he's averaged 90 or more in 14 of his next 15.
vs. Lefties
Rivera's history against left-handed hitters has been to jam them very tight with the cutter.
Mariano Rivera vs LHB
That results in a lot of foul balls and a lot of weak contact.
But through his first 116 pitches to lefties this season, he's pitched them a little differently. The chart on the right illustrates the difference statistically.
The image atop the article shows the change visually. The bottom line is that this strategy is working. Lefties are hitting .148 against Rivera this season.
vs. Righties
Rivera is working right-handed hitters primarily in a similar manner that he had in 2011 and 2012, trying to pitch them to the outside corner as often as possible.
Mariano Rivera vs RHB
Below "Upper-Third" of Strike Zone
But Rivera has been a little more vulnerable to right-handed hitters than usual when he keeps the ball below eye-level.
The chart on the right shows that Rivera was retiring 4.5 hitters for every hit or walk he was allowing on pitches below the upper-third of the strike zone.
In the (very) small sample that is 2013, his ratio is 2.3-to-1.
How he's getting outs
A few years ago, Rivera was a pitcher who would strike out about a batter per inning, and get ground balls at a rate of better than 50 percent.
This season, Rivera is averaging 6.8 whiffs per 9 innings, the ground ball rate is down around 39 percent, and those grounders have been replaced by a few line drives.
"Hard-Hit Average" vs Rivera
But even still, opposing hitters are not hitting the ball hard against him. We use a data provider that tracks "hard-hit ball" average -- in other words, the percentage of at-bats that end with a hard-hit ball.
Rivera's hard-hit ball average against this season is .094. The major-league average is about .170.
But in the end, it's all the same
Rivera has 16 saves in 16 chances. He's only had one run longer than that to start a season -- 28 for 28 in 2008.
The Elias Sports Bureau tells us that he's set the single-season record for saves by a pitcher age 43 or older, previously set by Hoyt Wilhelm in the first year of the save rule, 1969.
In the end, he may be getting the job done a little differently, but the numbers show he's adapted to what he's got left just fine.