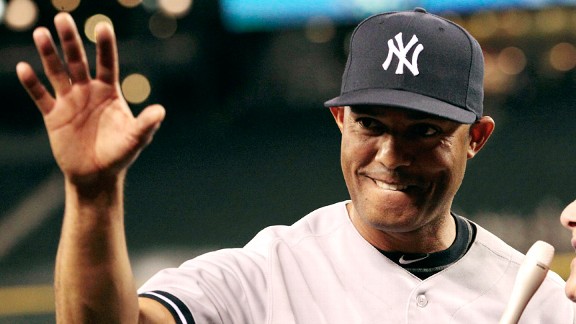 AP Photo/Elaine Thompson
Mariano Rivera was a happy man after recording his 600th save in Seattle.For the remainder of the 2013 season, we will look ahead to Mariano Rivera's matchups against teams he will be facing for the final time in the regular season. We missed out on the Diamondbacks, but we'll circle back and play catch-up with that one eventually.
Next up in our series, a look at Rivera's history against the Seattle Mariners.
By the Numbers
Mariano Rivera's career stats versus Mariners
2.70 ERA
35 saves
76 2/3 IP
57 hits allowed
77 strikeouts
23 walks
Postseason
1.23 ERA
2 wins, 3 saves
14 2/3 IP
9 hits allowed
12 strikeouts
2 walks
Did you know?
Rivera's 35 saves (in 37 chances) are the most of anyone against the Mariners. Hall of Famer Dennis Eckersley ranks second with 32. Francisco Rodriguez has the next most among active pitchers with 24.
Rivera had 27 straight regular-season save conversions against the Mariners from 1998 to 2009, the longest streak by any pitcher against them. Rivera has had longer save streaks against two teams -- a 33-save streak against the Rays and a 29-gamer against the Royals.
He has been on the mound for 10 postseason clinchers at Yankee Stadium. There are two teams he has clinched a postseason series at home against twice -- the Braves and the Mariners.
Most Saves by Yankees P
vs. Mariners
Mariners right-handed batters have one hit in their past 28 at-bats (.036 BA) against Rivera, dating to May 2007. The lone hit was a pinch-hit double by Mike Sweeney on Sept. 18, 2009. Rivera blew the save in that game -- one of just two blown saves against the Mariners -- when current teammate Ichiro Suzuki hit a two-run walk-off homer following Sweeney's double.
What will almost certainly be Mariano's final start as a major leaguer came versus the Mariners on Sept. 5, 1995. He allowed five runs on seven hits in 4 1/3 innings in the loss. He became a full-time member of the bullpen the following week and hasn't started a game since. Rivera is 3-3 with a 5.94 ERA in 10 career starts.
His shortest start was a 2 1/3 inning stint against the Mariners on June 11, 1995, which included a three-run homer by Edgar Martinez.
Rivera has allowed eight home runs in 76 2/3 innings against the Mariners. The only team he has allowed more homers against is the Orioles -- 11 homers in almost twice as many innings pitched (135 2/3).
He is 0-2 against the Mariners in Safeco Field, matching Tropicana Field for his worst winless mark at any ballpark.
Rivera has issued seven intentional walks to the Mariners, the most of any team in his career. Six of those seven came from 1996-2004, including two to Martinez and two to Paul Sorrento.
They said it
"I remember thinking how uncomfortable I was at bat against him with the game on the line. Mariano is well prepared when he takes the ball. You know he is not going to make a mistake. He is a true professional." -- Edgar Martinez
Magic 'Mo'ment
Rivera's postseason debut came in Game 2 of the 1995 American League Division Series against the Mariners and set the tone for his future postseason work. He pitched 3 1/3 innings of relief, allowing zero runs on two hits with five strikeouts. The Yankees would win the game for Rivera on Jim Leyritz's home run in the 15th inning.
Rivera would have one more key moment in that series, in relief of David Cone with the bases loaded, two outs and the score tied in the eighth inning of Game 5. Rivera struck out Mike Blowers on three pitches to keep the game even.
Rivera would also record a milestone save against the Mariners, becoming the second pitcher in major league history to reach 600 saves when he got the final three outs in a 3-2 win over the Mariners on Sept. 13, 2011. After two strikeouts by Rivera, the game ended when Ichiro was caught stealing at second base.