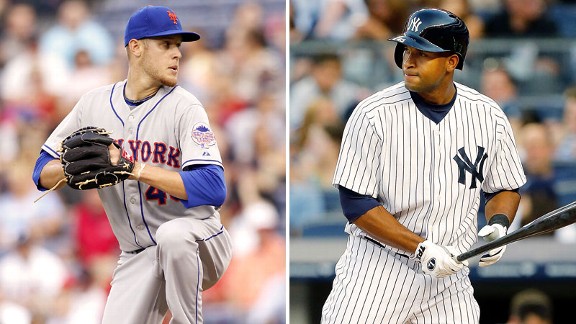 USA TODAY Sports/Getty Images
Zack Wheeler and Zoilo Almonte have made a name for themselves very quickly.Z may be last in the alphabet, but it's first on the minds of Mets and Yankees fans with the success of rookies Zack Wheeler and Zoilo Almonte last week.
Wheeler became the third Mets pitcher to throw at least six scoreless innings in his major-league debut last Tuesday against the Braves and starts Tuesday night against the White Sox.
Almonte is one of only three Yankees to have four hits and four RBIs in his first two starts. Elias tells us that the other two are the odd couple of Lou Gehrig and Brian Dayett. He's also one of three to have seven hits, a homer and four RBIs in his first five games, alongside Tommy Henrich and Joe Lefebvre.
They share the common bond of having a first name starting with Z, something rare in their teams' histories.
Best Z's in New York Sports History
Themeaningofthename.com rates the letter Z as the 23rd-most likely to be used in the first name of a person you encounter, ahead only of U, Q, and X. Estimates we've seen are as low as 13-hundredths of one percent of the US population and that bears out among the two current teams.
The Mets have only had two players among the 958 to play with them whose first name started with Z—both are on the roster now—Wheeler and recently recalled Zach Lutz, who also played seven games in 2012 and was 1-for-11.
The Yankees, with a bit more history to work with, have had five Z's, with Almonte following the path previously carved by Zinn Beck (1918), Zack Taylor (1934), Zeke Bella (1957) and Zach Monroe (1958-59). The latter was a pitcher who won a World Series ring in his only full season (despite allowing three runs in one inning in his only World Series appearance).
Taylor was a 16-year major-league catcher who was mostly a backup and got into four games with the team at the tail end of his career (he also played briefly for the New York Giants and Brooklyn Dodgers). Beck and Bella each got cups-of-coffee with the team, with Bella's coming after three years in the U.S. Army in Korea. His brief stint is still celebrated in Greenwich, Conn.
Combined, the four other Z's were 4-for-42, or fewer hits than Almonte got in his first four games.
The New York baseball scene hasn't had a prominent player with a 'Z' in his first name since Zeke Bonura, who played first base for the New York Giants in 1939 and hit .321 with 11 homers and 85 RBIs as part of a seven-year career. He was sold to the Washington Senators and played one more year before entering the military.
The standard-setter among Z-named players is Hall of Famer Zack Wheat, who spent 18 seasons with the Brooklyn Dodgers beginning in 1909 and amassed nearly 3,000 hits as an outfielder. He remains the franchise's all-time leader in games played, hits, doubles and triples.
Should Wheeler or Almonte rate as prominently as Wheat, they'll have accomplished something pretty prominent.
And they might spike a rise in Z-names (at least in the New York area) if they do.