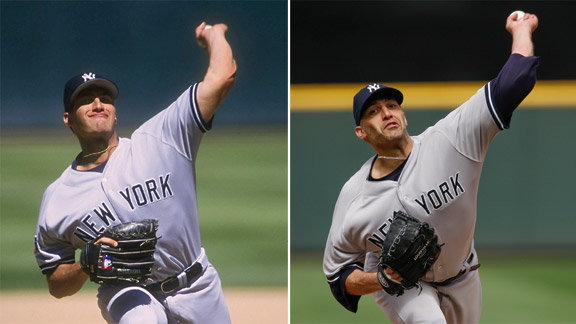 Otto Greule/Getty Images
Andy Pettitte circa 1997 and 2013, still accumulating strikeouts.
Andy Pettitte isn't known for being a strikeout pitcher but today is likely the one day he'll be heralded for it.
Pettitte enters tonight's start in Minnesota one shy of the record for most strikeouts in Yankees history set by Hall-of-Famer Whitey Ford.
Most Strikeouts – Yankees History
With that in mind, and with the help of the Elias Sports Bureau and Baseball-Reference.com, here are some things you may not have known about Pettitte and his strikeouts.
• Pettitte ranks fourth for most strikeouts among pitchers for New York teams. The three pitchers ahead of him are Tom Seaver (2,541), Christy Mathewson (2,504) and Ford.
• Pettitte has struck out at least one batter against each of the other 29 teams while with the Yankees except one, the Giants.
• Pettitte's first strikeout was Royals first baseman/outfielder Joe Vitiello, the second batter Pettitte faced in a relief appearance against the Royals on April 29, 1995.
• Pettitte has struck out 676 different hitters as a Yankee, including six Hall-of-Famers -- Cal Ripken Jr., Roberto Alomar, Paul Molitor, Eddie Murray, Rickey Henderson, and Dave Winfield.
• The hitter that Pettitte has struck out most often is former Blue Jays, Marlins and Mets slugger Carlos Delgado (18 times).
• The hitter that Pettitte faced the most without striking out was Gary DiSarcina who hit .448 in 31 plate appearances against him. The lack of strikeouts against Disarcina is no surprise. DiSarcina ranked in the top five in the AL in being toughest to strike out in four different seasons.
• The team that Pettitte has the most strikeouts against is the Blue Jays, with 218. That is the fourth-most strikeouts against the franchise by any pitcher, behind Roger Clemens (292), Mike Mussina (243) and Tim Wakefield (235).
• Not surprisingly, the visiting ballpark he has the most strikeouts at is the Skydome/Rogers Centre in Toronto. His 122 strikeouts there are the second-most by a visiting pitcher, behind only Mike Mussina (128).
• Of Pettitte's 1,956 strikeouts, 816 came at the original Yankee Stadium. Only Ron Guidry (969) had more strikeouts there than Pettitte.
• Pettitte's career high in strikeouts is 12, done twice: once against the Red Sox on September 16, 1997, and once against the Rays on July 28, 2002. His 12 strikeouts against the Red Sox are the most ever against them by a Yankees lefty.
Most Strikeouts by Hitter
In Pettitte's Yankees career
• Pettitte struck out at least 10 in a game a dozen times as a Yankee, just over half as many times as franchise leader Ron Guidry (23).
Pettitte's most recent 10-strikeout game was April 24 this season against the Rays. With that performance he joined Randy Johnson (4) and Roger Clemens (3) as the only Yankee 40-year-olds with a double-digit strikeout game.
• Pettitte ranks 41st all-time with 2,384 career strikeouts (including his total with the Astros). The next pitcher he will pass on the all-time strikeout list will be another famous lefty, Sandy Koufax (2,396).
• In addition to his 1,956 strikeouts in the regular season, Pettitte also struck out 183 batters in the postseason. Only John Smoltz (199) has more postseason strikeouts in major-league history.
• Needing two strikeouts to pass Ford, what is the chance that Pettitte doesn't break the record on Monday? He has recorded zero or one strikeout in 32 of 504 career starts (6.3 percent). However, he hasn't had a start with fewer than two strikeouts since September 24, 2010, and has never had one against the Twins in his career.
• This year is the 50th anniversary of when Ford set the record in 1963, surpassing the mark previously held by Red Ruffing.