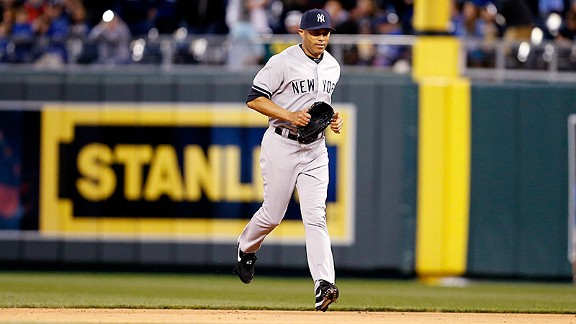 AP Photo/Orlin Wagner
Mariano Rivera has only a few games left to trot to the mound against the Royals.For the remainder of the 2013 season, we will look ahead to Mariano Rivera's matchups against teams he will be facing for the final time in the regular season. We missed out on the Arizona Diamondbacks, but we'll circle back and play catch-up with that one eventually.
Next up in our series, a look at Rivera's history against the Kansas City Royals.
Mariano Rivera's career stats vs. Royals
1.68 ERA
37 saves
2 blown saves
69 2/3 innings pitched
50 hits allowed
57 strikeouts
18 walks
Did You Know?
• Rivera has gone 55 straight games without allowing multiple runs to the Royals, the longest such streak against any team he has ever faced.
• Rivera has 37 saves against the Royals in his career, the second-most of any player. Only Joe Nathan, with 40, has more.
• Rivera has not allowed a run at Kauffman Stadium since 1999. He has thrown 18 straight scoreless innings there.
• One of the weirdest games of Rivera's career took place on Aug. 2, 1996. The Yankees took a 3-0 lead on the Royals in the top of the 10th inning and brought Rivera on in relief of Dwight Gooden.
Rivera faced seven hitters but retired only two, allowing RBI singles to Mike Sweeney and Jose Offerman, and then a two-run, game-ending double to Keith Lockhart.
It would be the only hit that Lockhart would get in 11 plate appearances against Rivera. The two would have their final meeting on Oct. 27, 1999. This time, Rivera would retire Lockhart on a fly ball to left field for the final out of the World Series.
• That game is one of only two blown saves Rivera has against the Royals. His other came on Aug. 18, 1998, a game the Yankees would win in extra innings.
• Rivera's streak of nearly 15 years without a blown save is his longest current streak years-wise against any American League team (other than the Astros, against whom he has never blown a save chance).
• Rivera has converted his past 29 saves against the Royals, the longest streak against the franchise by any pitcher.
That streak of 29 straight saves is his second-longest versus any single team. He converted 33 straight save opportunities against the Rays from 1998 to 2005.
• Rivera's 1.68 ERA against the Royals is his fourth-best ERA against an AL team (not counting the Astros). The three teams that rank ahead of the Royals are all AL Central teams: the Tigers (0.77), White Sox (1.21), and Twins (1.26).
• Rivera has allowed only seven extra-base hits (four doubles, three homers) in 69 2/3 innings against the Royals. That is tied with the Twins for his fewest extra-base hits given up versus any AL team (excluding the Astros).
They said it
"I'm coming back. Put it down. Write it down in big letters. I ain't going down like this."
-- Rivera, the day after his ACL injury in Kansas City last season
Magic 'Mo'ments
Returning to the scene of his season-ending ACL injury suffered in 2012, Rivera notched saves in back-to-back Yankees wins over the Royals on May 11 and 12 of this season.