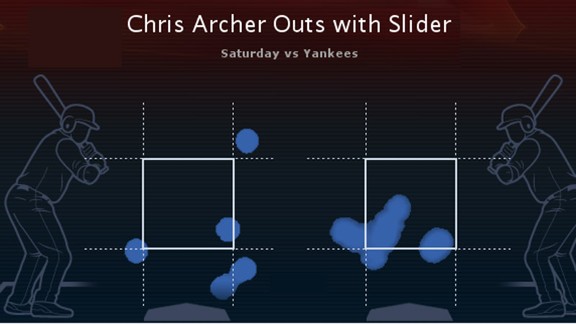 Chris Archer had a dynamite slider on Saturday.The pitching-rich Tampa Bay Rays are profiting big-time from the presence of rookie starter Chris Archer.
Archer, rated the No. 53 prospect in baseball by ESPN.com's Keith Law prior to the start of the season, has pitched among the game's elite, no more so than on Saturday afternoon when he shut out the Yankees, 1-0.
Let's run through some of the statistical highlights.
What a month!
Archer is not scheduled to pitch again in July, thus wrapping up one of the most remarkable calendar months by a rookie in major-league history.
Lowest ERA in July by Rookie
MLB History
Archer finishes the month 4-0 with an 0.73 ERA and 0.65 WHIP in five starts. He's thrown two shutouts in his last three starts after not having thrown a shutout prior to that in his professional career.
The Elias Sports Bureau notes that Archer's 0.73 ERA is the best ERA ever by a rookie in the month of July. The full list, one that includes ESPN broadcaster Orel Hershiser, is in the chart on the right.
The History
Archer is the second visiting pitcher in as many seasons to throw a 1-0 shutout at Yankee Stadium, joining Felix Hernandez. Prior to Hernandez, no visiting pitcher had thrown one there since Greg Swindell for the 1988 Cleveland Indians.
He's the third visiting pitcher in the last 55 seasons to throw a 1-0 shutout, allowing two hits or fewer in that ballpark or its prior iterations, with the other two being Hernandez and Hall-of-Famer Jim Palmer (1967 Baltimore Orioles).
1-0 Shutout at Yankee Stadium
Visiting Pitcher, Past 30 Seasons
He's also the second visiting pitcher to do so without issuing a walk, joining Wes Ferrell for the Boston Red Sox in 1935.
In another neat twist, Archer became the first visiting pitcher to throw any sort of shutout, allowing two hits or fewer with no walks in Yankee Stadium, since Neil Allen of the 1986 Chicago White Sox.
Allen mentored Archer as his pitching coach at the start of the season, for the Triple-A Durham Bulls.
How He Won
Archer won on the strength of his slider, which effectively complemented a fastball that averaged 95 mph.
He threw 31 of 41 sliders for strikes, and those 41 pitches netted him 13 outs without yielding a baserunner.
Yankees hitters chased 10 sliders out of the strike zone, the most chases that Archer has gotten from that pitch in any start in his career.
Archer was helped by what has been an inept Yankees lineup. With a lack of left-handed hitting options to choose from, Joe Girardi started five right-handed hitters. Those five were a combined 0-for-15.
Archer makes for a very tough challenge for a right-handed hitter. He's retired the last 27 he faced, the equivalent of a perfect game's worth of batters.
Amazing Rays Young Pitching
Archer is the latest pitcher churned out by a Rays franchise that has become the best at developing that sort of talent.
Since the start of the 2008 season, the Rays have had seven different starting pitchers under the age of 25 to throw a shutout (they've combined to throw nine). Only one other team had more than two pitchers age 25 or under throw a shutout in that span, the San Francisco Giants with three.