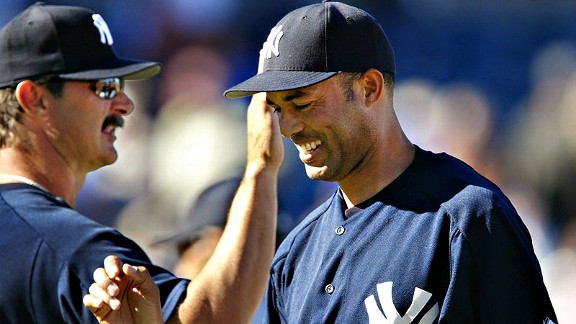 AP Photo/Kathy Willens
Mariano Rivera gets kudos from Don Mattingly after a spring training win in 2005.For the remainder of the 2013 season, we will look ahead to Mariano Rivera's matchups against teams he will be facing for the final time in the regular season.
In this case, we'll look not only at Rivera's career against the Dodgers, but the Diamondbacks (the one team we skipped in writing this series) and a few teams he won't see this season (barring a World Series appearance).
By the Numbers
Rivera's career vs the Dodgers
4 appearances
1-0 win-loss record
5 innings
2 hits
0.00 ERA
2 saves
Did You Know?
• Rivera's nine strikeouts against the Dodgers are tied for his most against any team against which he has not issued a walk (matching his total against the Astros).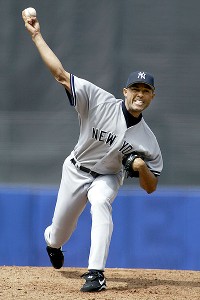 Rob Leiter/MLB/Getty Images
Mariano Rivera delivering a pitch against the Dodger Stadium backdrop
• The five scoreless innings vs. the Dodgers are just one shy of the team against which he has the most regular-season innings pitched without allowing a run, the Diamondbacks.
• Speaking of the Diamondbacks, Rivera has five regular-season appearances against Arizona, all of which came after the 2001 World Series, with four saves and a win.
One of the most impressive escapes of Rivera's career came against the Diamondbacks on June 23, 2010. The Diamondbacks loaded the bases with nobody out against him in the 10th inning, trailing by a run, but Rivera retired Chris Young, Adam LaRoche and Mark Reynolds on two popups and a strikeout to end the game and a 6-5 Yankees win.
• Rivera lost to the Mets already this season, but won't face the Atlanta Braves, Miami Marlins, Philadelphia Phillies or Washington Nationals in the regular season.
• Rivera allowed four runs to the Braves on July 16, 1999. They are the most runs he allowed in an interleague game. In his 16 other appearances against the Braves (including postseason), Rivera not only allowed only one run in 20 1/3 innings, he allowed none of the 11 runners he inherited to score. Four of Rivera's nine saves against NL teams that took fewer than 10 pitches came against the Braves (two in 1998, one in 2001, one in 2009)
Rivera made 13 appearances against the Phillies (including postseason) and allowed them to score only once (two runs in a game in 2000). In the other 12 games, he pitched 15 scoreless innings.
Rivera made 10 appearances against the Marlins, including postseason, and allowed them to score only once, two runs in a 6-5 loss on June 15, 1997. In the other nine games, he pitched 11 scoreless innings, though he did allow one inherited runner to score.
• The Nationals are the team in that quartet with whom Rivera had the most trouble. The Nationals and Mets are the only two NL teams that Rivera has lost to twice.
They Said It
"I was retired watching him and it was kind of like, 'Wow, this guy, nobody touches him.' I'd like to say I knew [he'd be great], but I didn't. I just didn't. Everything he does, he handles himself well. I think he's great the way he handles himself, and he's just a genuine person. I think he's a great ambassador for the game."
-- Dodgers manager Don Mattingly
Magic Moments
Rivera's most impressive save against the Dodgers came on June 25, 2010, when he struck out Manny Ramirez, Matt Kemp and James Loney on 13 pitches in the ninth inning to preserve a 2-1 Yankees win.