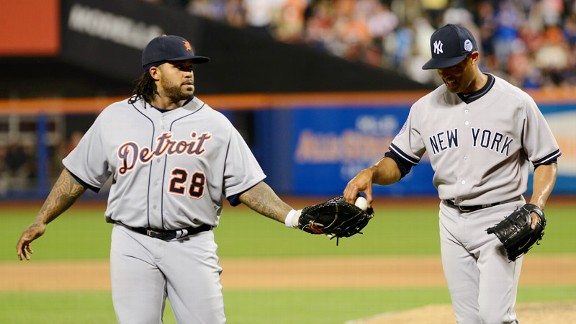 AMark Cunningham/MLB Photos/Getty Images
The Tigers' Prince Fielder gives Mariano Rivera the ball from the final out of the 2013 All-Star Game.Continuing our team-by-team review of Mariano Rivera's career, we look at his history against the Detroit Tigers.
By the Numbers
Rivera's career stats vs. Tigers
Regular Season
0.77 ERA
30 saves
3 blown saves
58 2/3 innings pitched
28 hits
5 earned runs
55 strikeouts
8 walks
Did You Know?
• Rivera's career regular-season ERA against the Tigers is 0.77 (five earned runs in 58 2/3 innings pitched), his best against any team he's pitched at least 10 innings against.
• The Tigers have hit .138 and managed a .375 OPS against him, both the lowest for any team with more than 20 at-bats against him.
• Rivera's 6.9 strikeout-to-walk rate against them is his best versus any AL team.
Neither of those stats include the 2 1/3 innings of scoreless one-hit ball against them in the postseason.
• Also a best: his 5-1 win-loss record, an .833 winning percentage, which rates best among AL opponents.
• Rivera's last blown save against the Tigers came on July 6, 1999, in a game the Yankees won anyway, 9-8. Rivera came into the game in the eighth inning but ended up allowing two runs to blow the save.
That is the only time in 56 regular-season and postseason appearances vs. the Tigers he gave up more than one run.
• Rivera has converted his last 23 save chances against the Tigers, which is the second-longest streak all time vs. the franchise, behind Joe Nathan's active 36-save streak. His 30 career saves against them are third most of anyone, trailing Nathan (36 -- all in a row) and Roberto Hernandez (31).
Specifically in those 23 saves, Rivera has not allowed a run.
• Rivera has pitched in 28 regular-season games against the Tigers at the two Yankee Stadiums. In those 28 games, he's allowed one run (and stranded all six inherited baserunners) and allowed 10 hits in 29 1/3 innings. The only run scored on a double play hit by Bobby Higginson.
• Rivera has finished just 42 games and pitched 58 2/3 innings vs. the Tigers, his fewest vs. any AL team (except the Astros).
They Said It
"What I remember most is that every time I swung the bat against him I felt like I was on the pitch and it ended up in the mitt. It was like being in a Bugs Bunny cartoon -- every time I started to hit the ball, it moved out of the bat's way."
-- Tigers outfielder Torii Hunter on what he'll remember most about facing Rivera (against whom he is 3-for-18 with 10 strikeouts, combining regular season and postseason)
Magic 'Mo'ment
Since pitching three innings of relief in Game 7 of the 2003 ALCS, Rivera has gone that long in a game just once. It was against the Tigers on May 30, 2006, in an 11-6 11-inning Yankees win.
Rivera earned the victory in that one with vintage Mariano efficiency. He got the nine outs on just 25 pitches.