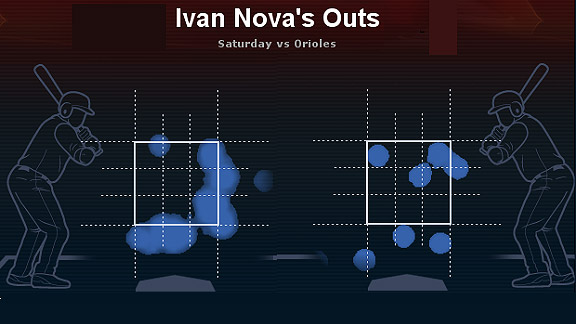 Ivan Nova worked down-and-away to lefties and up to righties in Saturday's win.
Ivan Nova was brilliant, though this has been nothing new of late.
This time, Nova went the distance for his first career shutout, continuing a run in which the New York Yankees have won 10 of their last 11 home games.
It also continued a run in which Nova has become the Yankees' staff ace. He's 6-2 with a 2.06 ERA and 1.03 WHIP in his last 10 starts, a stretch that started against the same Baltimore Orioles team that he beat on Saturday.
That ERA is a hair below Chris Archer for best in the American League since July 5. Five of Nova's wins have come in Yankee Stadium.
Here's a closer look at his performance from a statistical perspective.
The hook
Nova had a dominant curveball in Saturday's shutout. He threw 38 of them and netted nine outs with the pitch, including five strikeouts.
In his last two starts against the Orioles, they haven't been able to hit that pitch, making 21 outs and netting only two baserunners against it.
Key to season: Limiting the long ball
In 2012, Nova allowed 28 home runs in 170 1/3 innings. This season, he's allowed only five home runs in 109 1/3 innings, including one in 50 1/3 innings over his last seven starts.
Ivan Nova Pitch Location
Relative to Strike Zone
That has a lot to do with Nova's pitch location, which we've noted in the chart on the right.
Nova has been able to frequently dot the lower third of the strike zone with both his fastball and his curveball in 2013. He got 14 outs and allowed no hits in that area on Saturday, mostly versus the Orioles' left-handed bats. Against righties, Nova was able to get outs in the upper part of the zone and above, as shown in the image atop this story.
Staff ace
Nova has a 2.06 ERA in a stretch in which the Yankees other starters are faltering. Everyone else to start for the Yankees since July 5 has a combined ERA of 4.58.
CC Sabathia brings up the back of that group, with a 6.67 ERA in his last 10 starts.
A little help
Nova got some offensive support from Robinson Cano, who reached the 25-homer mark for the fifth straight season.
Cano is the sixth Yankee to have a streak of five straight seasons with 25 or more homers, joining Babe Ruth (14 straight), Lou Gehrig (12), Mickey Mantle (9), Alex Rodriguez (7) and Joe DiMaggio (6).
It was Cano's 27th career home run against the Orioles, moving him ahead of Rodriguez for the most homers against the O's in the last nine seasons.
Did You Know?
The last Yankees pitcher to throw a shutout allowing three or fewer hits against the Orioles was former Orioles pitcher Mike Mussina in 2003.