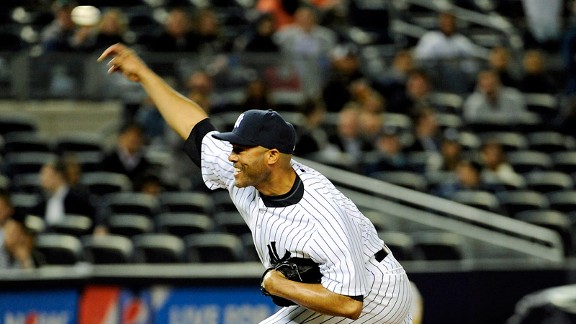 AP Images
Mariano Rivera pitches against the Astros earlier this year.All season, we've been tracking Mariano Rivera as he prepares to pitch in his final series against each team. Since he's faced the San Francisco Giants and Houston Astros only a few times, we'll combine them into one post as we preview the Giants series starting today.
By the Numbers
Rivera's career vs Giants
3 appearances
0-1 W-L record
3 2/3 innings
2 hits
0.00 ERA
2 saves
By the Numbers
Rivera's career vs Astros
6 appearances
0-0 W-L record
5 1/3 innings
1 hit
0.00 ERA
5 saves
Did you know?
• Rivera has faced only 15 batters in his career versus the Giants. The only team against which he has faced fewer batters is the Cardinals (10).
• The Giants are one of nine teams he has a 0.00 ERA against. But it is the only one of those nine that he has allowed an unearned run against. On June 8, 2002, an Alfonso Soriano error allowed Rich Aurilia to score in the ninth inning of 3-3 game the Yankees would eventually lose.
• Rivera is 0-1 in three games vs the Giants, with the loss being that June 8, 2002, game. The only other team he has at least one decision against and no wins is the Braves (0-1).
• He threw 34 pitches in one inning in that loss to the Giants. Only twice in his career has he thrown more pitches in an outing of one inning or less: April 11, 1996, he threw 36 pitches and got three outs; April 6, 2005 versus Boston he threw 38 pitches and got two outs.
• The Yankees travel to Houston on Sept. 27 for their final series of the season. Rivera has never pitched in a road game against the Astros. The only other team he has never faced on the road is the Pirates.
• The Astros have an on-base percentage of .063 in 16 plate appearances against Rivera. That is the lowest on-base percentage allowed versus any team in his career. His batting average allowed (.063) and slugging percentage allowed (.063) vs the Astros are both his second-highest vs any team (Cardinals, .100 batting average and slugging percentage).
• The only hit Rivera has allowed to the Astros came on May 1, when Brandon Barnes singled to lead off the ninth inning. Prior to that hit the Astros were 0-for-13 with eight strikeouts vs Mariano.
They Said It
"He's got to be the No. 1 calming influence in baseball history. I know what it's like in New York, and he's done all this in an era where they had to win and there was a lot of pressure on everybody, and yet here was this one guy who would come out of center field in the ninth and calm everybody down."
-- Dave Righetti, former Yankee pitcher and current Giants pitching coach (source: San Jose Mercury News, Sept. 16)
Magic Mo'ments
• June 12, 2003 -- Rivera pitched a perfect ninth inning against the Astros, shutting down the top of the order (Craig Biggio, Morgan Ensberg, Jeff Bagwell) to earn the save in the Yankees 6-5 win. That victory moved the Yankees into first place in the AL East, a lead they would not relinquish the remainder of the season.