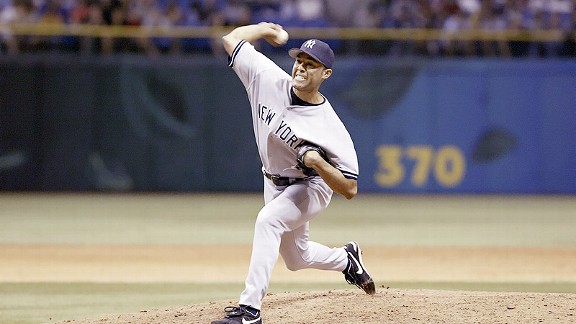 Steve Jacobson/Getty Images
Mariano Rivera pitching in Tropicana Field circa 2004, when he recorded his 300th career save there.This is the final installment of our "One Mo Time" tribute to Mariano Rivera, reviewing his career against every major-league team. To see other articles in this series, click here.
By the Numbers
Career vs Rays
64 saves
2 blown saves
1.71 ERA
105 IP
73 H
113 K
25 BB
Did You Know?
• Mariano Rivera's 64 saves against the Rays are his second-most versus any team (he has 79 against the Orioles) and the most by anyone against the Rays. The three pitchers who rank 2-3-4 in saves against the Rays have a combined 60 saves against them (Jonathan Papelbon, Troy Percival, Joe Nathan).
Mariano Rivera
Longest Save Conversion Streaks
• Rivera had a streak of 33 straight save chances converted against the Rays from 1998 to 2005 and then a 27-save streak from 2005 to 2011. He's only had two blown saves against them: one in 2005 and one on Opening Day 2012.
The only longer streaks by a pitcher against a team are 37 games, by Lee Smith against the Expos and 36 games by John Franco against the Phillies and Joe Nathan against the Tigers.
Rivera has the two longest save streaks against the Rays. The next-longest is 13 games, by B.J. Ryan and Keith Foulke.
• Rivera's 1.71 ERA in 105 innings against the Rays is the best ERA for any of the more than 100 pitchers with at least 50 career innings against the Rays.
He finished his career with a 1.18 ERA at Tropicana Field, his second-lowest at any ballpark he's visited more than 15 times, and behind his 1.11 ERA at US Cellular Field. His 1.18 ERA there is easily the best by any pitcher than has thrown at least 50 innings at the dome.
• In 2011, Rays hitters went 0-for-14 against Rivera. That's the worst single-season 0-for by a team against Rivera. Rivera has held four different teams to 0-for-10 or worse in the regular season, but the Rays are the only team against whom he's done so twice (2000 and 2011)
• Rivera has averaged 9.7 strikeouts per nine innings in his career vs the Rays, his highest strikeout rate vs any AL team (except Astros). That is the second-highest strikeout rate against the Rays by any pitcher (min. 100 IP), behind only Pedro Martinez (11.4).
• Rivera didn't allow a homer in his first 45 appearances vs. the Rays from 1998 to 2005, which is easily his longest homerless streak from the start of his career vs. any team. It is also one appearance shy of his most consecutive games without allowing a homer to a team at any point in his career. He has a 46-appearance streak vs. the Rangers and vs. the Royals.
• The first Rays player to homer against Rivera was former ESPN analyst Eduardo Perez. His solo homer in the bottom of the ninth inning on August 16, 2005 tied the game at three runs apiece, as the Rays eventually went on win in the 11th inning. Perez, now the bench coach for the Astros, often spoke of that game as his favorite baseball memory, because he homered against two future Hall of Famers -- Rivera and Randy Johnson.
• Current Rays third baseman Evan Longoria is one of five players to homer twice against Rivera. With a home run in this series off him, he would become the only player to take Rivera deep three times.
• Rivera's 4-6 record vs the Rays matches his worst vs any team he has faced more than 10 times (2-3 vs Royals).
Mariano Rivera
Ranks at Yankee Stadium
• Rivera's only two blown saves against the Rays have come in Tampa. He's 27-for-27 in save conversions against them at home. He once went more than five years (between 1999 and 2004) without allowing a run at home against the Rays.
• Speaking of home, with this being Rivera's last series in Yankee Stadium, we can tell you that his 314 saves at home are the most all-time, four more than Trevor Hoffman. Rivera's 314 home saves are more than 200 more than the Yankee with the next-most Dave Righetti, 111.
Rivera is also one of only two pitchers to be on the mound for the final out of two World Series clinchers in his home ballpark (1998 and 2009). The other is a former Yankee, Allie Reynolds.
They Said It
"I think of consistency and class and I don't throw the word class around easily. He's different. You can argue over who the best shortstop was, or the best centerfielder. You can't argue about who was the best closer."
-- Rays manager Joe Maddon on Mariano Rivera
Magic Moments
May 7 and May 9, 2002 -- Rivera earns saves against the Rays, the 224th and 225th of his career, tying and passing Dave Righetti for the most career saves in Yankees history.
May 28, 2004 -- Rivera records his 300th career save, getting the final three outs in a 7-5 Yankees win.