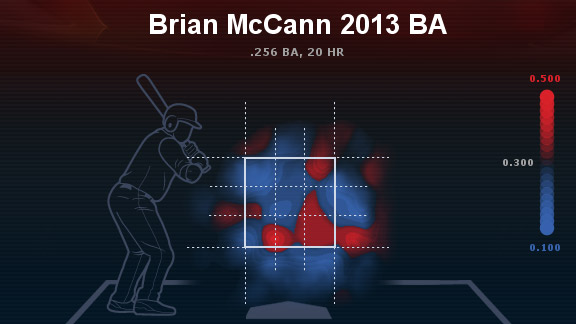 We went sifting through Brian McCann's numbers and trends, looking for meaningful and interesting notes. Here are five we found that struck us as worth sharing.
Home-Run Consistency
McCann has seven seasons with at least 20 home runs, including 2013, when he hit exactly 20 in 356 at-bats.
He's hit 20 or more home runs in each of the last six seasons. Only three other players whose primary position was catcher have done that -- Mike Piazza, Johnny Bench and Yogi Berra.
My Stats & Info colleague Katie Sharp also points out that McCann's swing is made for Yankee Stadium. He is the only player to hit at least 17 home runs to right field in each of the last five seasons.
Pitch-framing specialist
McCann has been heralded as a pitch-framing specialist, meaning that he's able to steal a few extra strikes for his pitchers by positioning pitches such that the umpires call them strikes.
Different studies will show different things with regards to this. Our tools show McCann's strength to be making sure that pitches in the strike zone are called strikes.
Over the last three seasons, McCann's pitchers have gotten strike calls on 84 percent of pitches in the strike zone. That's about four percentage points higher than the major-league average. Our MLB Insider, Jim Bowden, said that McCann excels at this because of a left hand that is steady, with little movement made when catching the pitch.
In fact, McCann ranks sixth-best in that stat among the 70 catchers who caught the most pitches in the strike zone in that span. The catcher right behind him on the list is none other than the player he's replacing as the primary starter, Chris Stewart.
Something to watch: Two-strike success
After a stretch of seasons in which his numbers with two strikes were relatively ordinary, McCann excelled in those situations in 2013. The chart on the right documents the difference.
Brian McCann With 2 Strikes
McCann outperformed his norms in this area in a number of ways.
One particularly noticeable was how he handled the two strike pitches that our pitch-tracking system deemed low and off the outside corner.
Here's what we mean from a visual perspective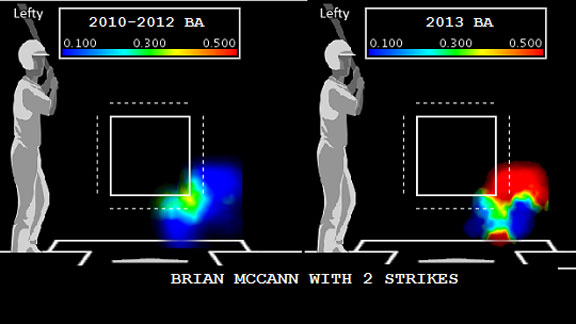 McCann cut back on how often he chased that pitch, letting the really bad ones go, and selecting ones that he could punch for hits. From 2010 to 2012, McCann's success was such that he'd have had three hits per 27 at-bats ending with a two-strike pitch to that area.
He had 11 in 2013.
Can this be duplicated in 2014? We'll find out.
Expect a lot of shifts
McCann can expect to see a lot of infield shifts, particularly given how every AL East team uses them with a higher-than-normal frequency.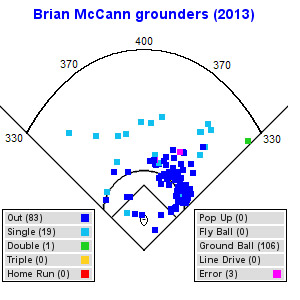 The image on the right is his ground-ball spray chart from last season. McCann hit 106 ground balls last season, with 91 hit to the right of the second-base bag.
The shifted defenses are one reason that McCann's batting average has dipped a bit. From 2009 to 2011, he reached base 23 percent of the time when hitting a ground ball to the right of second base. In 2012 and 2013, that dropped to 12 percent.
Similar to Mark Teixeira, McCann will not bunt often to defy the shift, but he is capable of doing so if he feels he needs to do so. He's bunted five times the last three seasons, with his four most recent bunts resulting in base hits.
He finishes slow
McCann finished the 2013 regular season with a .202/.270/.318 batting average, on-base-percentage, slugging percentage combo in his last 36 games, with only four home runs, then went 0-for-13 with six strikeouts in a loss to the Dodgers in the division series.
McCann's slow finishes have come with the package the last few years. His September-October OPS' over the last four seasons have been .644, .626, .634, .554.
What was interesting about his 2013 finish is that McCann didn't start his season until May. He missed the first month recovering from right-shoulder surgery.