Hal Steinbrenner has said $189 million was always a goal, not a mandate.
And now, it is not even a goal.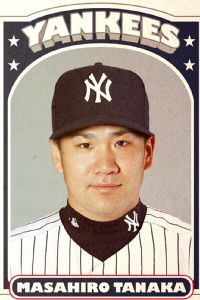 MLB.com
Since Masahiro Tanaka will be heading to New York it's worth taking a look at how players from the Japanese league transition to the MLB.
The Yankees are over $189 million, a source with knowledge of the team's calculations confirms. Their payroll, according to Cot's Baseball Contracts, was at $172 million before the Tanaka deal, making it very difficult, perhaps impossible, for them to sneak under the magic number. Because that $172 million was for only 18 players. Now, you add Tanaka at $22 million per year and they sail by it.
WHERE THEY MISSED: Well, if the old posting system were in place, the Yankees would have had a shot to sign all of those players and still dip under $189 million. Under the old system, the Yankees could have gone crazy in their posting fee, offering upward of $100 million -- and it would not have counted toward the luxury tax.
Then, with Tanaka allowed to negotiate only with them, they could have kept his contract at around six years and $60 million, like Yu Darvish's. That would have given them a shot at $189 million.
When the rules changed and Tanaka was available to anyone willing spend the $20 million posting fee, the Yankees knew they would have to go over $100 million and, as it turns out, they went way over. So the $189 million goal, which they have been working toward for a few years, is kaput.
STILL, THERE ARE SAVINGS: The Yankees may end up with a payroll of more than $200 million, but they still figure to save money. With Alex Rodriguez's $25 million coming off the books, the Yankees' salaries should be much less than they were in 2013.
For luxury tax purposes, they had a payroll of $237 million in 2013. Plus, after paying $28 million in luxury taxes in '13, their bill will be much lower this year. Despite all the spending, there appears to be some savings. Party at Hal's.
WILL THEY KEEP SPENDING? The Yankees do not like the remaining top free-agent starters so, with Tanaka on board, it seems unlikely they will sign Matt Garza, Ubaldo Jimenez or Ervin Santana. Grant Balfour might make some sense to a team with David Robertson at the back end of the bullpen, but one source indicated he thought the Yankees had spent their millions -- nearly half a billion dollars worth of contracts -- and probably were done for now.