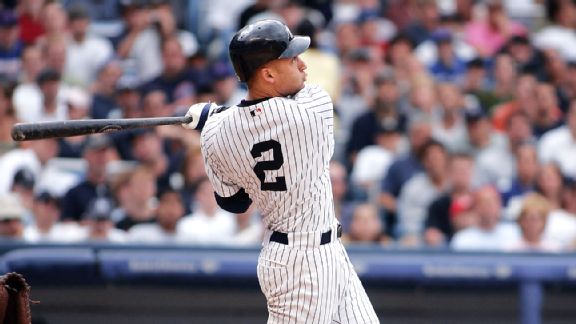 AP Photo/Ed Betz
Derek Jeter hits his only career grand slam in a game against the Cubs on 2005.All season we'll be tracking Derek Jeter as he prepares to play in his final series against each team. During the next three weeks starting Friday May 9, the Yankees will play 5 NL teams for the final time this season: Milwaukee Brewers, New York Mets, Pittsburgh Pirates, Chicago Cubs, and St. Louis Cardinals. Given his limited experience against the Brewers, Pirates, Cubs and Cardinals, we have compiled his best stats and moments for those four teams into a single post. A separate piece on the Mets will be coming next week prior to the Subway Series starting on Monday.
BY THE NUMBERS (Brewers, Pirates, Cubs, Cardinals)
• The Brewers are the only team Jeter has faced more than 20 times and not been hit by a pitch.
• Jeter's six hits vs. the Cubs is tied with the San Francisco Giants for his fewest versus any team.
• His .214 batting average versus the Cubs is his lowest vs. any team.
• His .417 batting average and .533 on-base percentage vs. Pirates are both his highest versus any team.
• Jeter has a hit in every game played vs the Pirates, one of two teams (along with
Colorado Rockies) that he hit in every game played against.
• The Cardinals are the only team he has never struck out against (27 plate appearances).
• The new Busch Stadium (opened in 2006) is one of two current ballparks that Jeter has never played at (also Marlins Park, which opened in 2012).
THEY SAID IT
"When we get to know players in the draft or young minor leaguers one thing I ask is who is your favorite player and Jeter was the one guy if the player said 'Jeter' was his guy it made me feel good. So whether it was Dustin Pedroia saying that or [Cubs prospect] Albert Almora saying it now it indicated that player had his baseball mind and heart in the right place. Even though he was a Yankee it kind of made me smile when a player said that. He deserves all the accolades coming his way.
He made baseball and life look easy. Those are two things that are not easy. As class act as you can get. I wish he wasn't quite as good or competitive as he was we'd probably have a few more wins."
-- Theo Epstein, Cubs President of Baseball Operations
JETER'S BEST
• June 18, 2005 vs Cubs -- Jeter hit his only career grand slam (regular season and postseason) in the bottom of the sixth inning off reliever Joe Borowski, helping the Yankees to an 8-1 win in the Bronx.
• June 8, 2007 vs Pirates -- Jeter's one-out, walk-off single with the bases loaded in the bottom of the 10th inning gave the Yankees their fourth win in a row. The Pirates had intentionally walked Johnny Damon to get to Jeter, who delivered the game-winning hit.