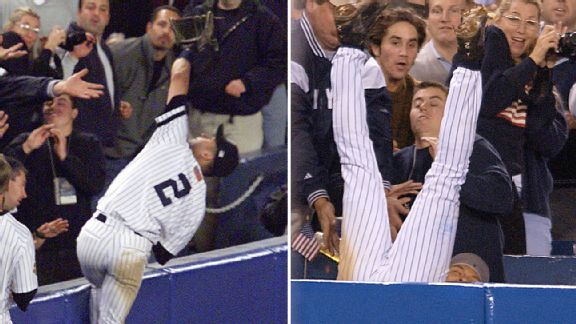 Getty Images
Derek Jeter is best known for "the flip" against the Athletics, but "the catch" later in the 2001 ALDS was a pretty amazing play too.All season we'll be tracking Derek Jeter as he prepares to play in his final series against each team. Next up on the list is the Oakland Athletics, against whom the Yankees start a series on Friday.
Career vs. Athletics
Regular Season
.306 BA
13 HR
71 RBI
195 Hits
19 SB
156 games
Postseason
.324 BA
12 Hits
10 Games
By the Numbers
• Jeter has the highest and third-highest single-season batting average by a Yankees player against the Athletics since the Athletics moved to Oakland in 1968. He hit .486 against them in 2011 and .463 against them in 2009. His .578 on-base percentage in 2011 also ranks first, as does his 195 career base hits (17 more than Don Mattingly).
• Jeter had a .370 career batting average against the Athletics Big 3 starting pitchers -- Tim Hudson, Barry Zito and Mark Mulder. He hit .324 against Hudson, .372 against Zito and .410 against Mulder.
• Jeter hit .400 or better against the A's in three separate seasons (1997, 2009, 2011). Only two other players had three seasons with a batting average of at least .400 against the A's since the team moved to Oakland in 1968 (min. 35 at-bats): Jim Rice and Nomar Garciaparra.
• He had three straight games with at least three hits in Oakland spanning the 1996 and 1997 seasons, matching the longest such streak by any visiting player there.
• Jeter's first career triple came against the Athletics, versus future Yankees coach Mike Harkey, on June 8, 1995.
• Jeter's nine sacrifices versus the Athletics are tied for his most against any opponent.
• The Yankees are 95-60 when Jeter starts against the Athletics (.613 winning percentage).
• He hit and slugged .105 (2-for-19, no extra-base hits) in five postseason games at the O.co Coliseum, his second-worst postseason batting average and slugging percentage at any ballpark behind only Chase Field in Arizona.
They Said It
"The feather in my cap with Jeter is that I picked him off, and he came up to me the next day and said 'Why don't you just hit everyone and then pick them off, because we have no shot (against your pickoff move).' It's not every day you get to compete against a first-ballot Hall of Famer. At no point in his career did he ever put himself above his teammates. And you can see that at the end of his career in his body of work."
-- Former Athletics pitcher and current Baseball Tonight analyst Dallas Braden
"Whether he was in a slump or not, I never wanted to face him in a big situation or with runners on base."
-- Former Athletics pitcher and ESPN baseball analyst Mark Mulder
Jeter's Best Moments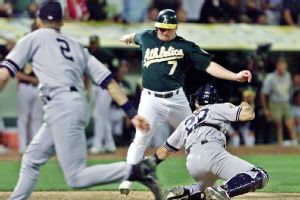 AP Photo/Eric Risberg
The play that turned a series around.2001 ALDS Game 3: "The Flip" -- Jeter saves Game 3 of the ALDS, preserving a 1-0 shutout, with a blind flip to Jorge Posada at home plate to throw out Jeremy Giambi trying to score. The play was the turning point of the series, as the Yankees rallied for three straight wins to beat the Athletics in five games.
2001 ALDS Game 5: "The Catch" -- Often forgotten due to the other fall-into-the-stands catch that Jeter made, he had another such play. This one came in the clinching game of the 2001 ALDS.
You can watch it here.
Katie Sharp writes for the Sweet Spot blog "It's About the Money." Mark Simon is a researcher for ESPN Stats & Information.