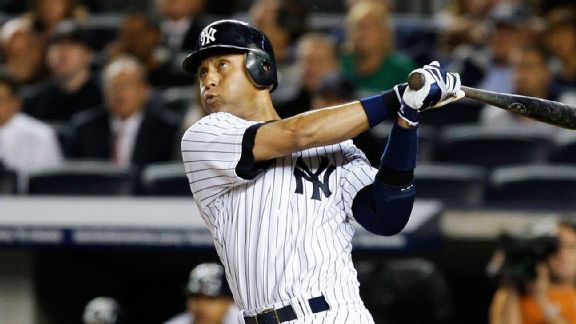 AP Photo/Julie Jacobson
Derek Jeter's playoff home run was one of many hits he had against the Twins All season we'll be tracking Derek Jeter as he prepares to play in his final series against each team. Next up on the list is the Minnesota Twins, against whom the Yankees start a series on Friday.
Career vs Twins
Regular Season
.323 BA
13 HR
58 RBI
169 Hits
9 SB
128 games
Postseason
.351 BA
20 Hits
14 Games
By the Numbers
* Jeter hit .423 (11-for-26) at the Metrodome in 1999, the highest batting average in a season by any Yankee at the ballpark (minimum 25 at-bats).
• Jeter hit .435 against the Twins in 2006 and .448 against them in 2007. He's only hit .430 or better in consecutive seasons against one other American League team -- the Tigers in 2000 and 2001.
• Jeter has hit .300 or better against the Twins in each of the last seven seasons (he's 4-for-12 against them in 2014). That's his longest current .300 hitting streak against any team.
• His .345 batting average against the Twins at Yankee Stadium is his second-highest home batting average versus any team behind the Tigers (.363).
• Jeter was 2-for-24 (.083) in his first seven games against the Twins; he has hit. 335 against them since then and has never gone more than one game without getting a hit.
• The Twins are one of four teams that Jeter has four separate 10-game hitting streaks against (White Sox, Rays, Blue Jays).
• From the start of Jeter's first full season in 1996 to 2013, Twins shortstops have a .666 OPS, the second-worst of any team in that span. The Yankees have the highest OPS (.800) from the shortstop position in that same span.
• Jeter's .351 batting average and .431 on-base percentage in the postseason against the Twins are both his best versus any AL team.
• Jeter is 12-2 in the postseason against the Twins, his best playoff win percentage (.875) against any AL team.
• Jeter had his troubles with lifelong Twin Brad Radke. His .570 OPS against Radke (including postseason) is his third-lowest against the 39 pitchers he's had at least 40 plate appearances against.
They Said It
"All I know is Derek Jeter has been the main cog in sending my butt home a lot of times in the playoffs. Early exits. Let's just call him Early Exit Man because he did that to us quite a bit. He's led that team forever. One of the most professional baseball players I've ever seen. Class act. Everybody says it. He's got all the accolades, but he lived it. He lived it every day on the field, and it looks like he's having fun and enjoys the game of baseball. One of the more intelligent guys you're ever going to see out there."
-- Twins manager Ron Gardenhire to the Minnesota media earlier this season.
Jeter's Best Moments
• May 16, 1998 -- Jeter's only four-hit game against the Twins came in May of his third full season. Not only did he have four hits, he was involved in all five runs for the Yankees in the 5-2 win: he drove in two runs with a sixth-inning single and scored the other three runs in the first, third and fifth innings.
• October 7, 2009 -- In Game 1 of the 2009 ALDS against the Twins, the first-ever postseason game at the new Yankee Stadium, Jeter hit a two-run homer in third inning to pull the Yankees even at 2. It was his 18th postseason home run, which tied Mickey Mantle and Reggie Jackson for third on the all-time career list. The Yankees would eventually win 7-2 and sweep the series.