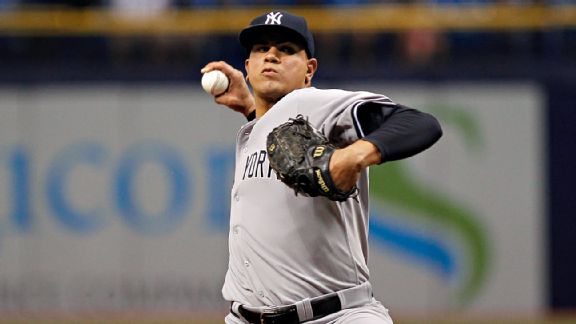 Mark LoMoglio/Icon SMI
Staring down Dellin Betances from the batters box is not easy.One of the new stats that we sometimes like to use to evaluate a pitcher's performance is something called Win Probability Added.
This is a number that judges a pitcher by the importance of the situations in which he is pitching.
A pitcher earns points for getting outs in important spots and loses points for allowing baserunners and runs. How many points he earns or loses is dependent on the game situation.
For example, when Dellin Betances entered Friday's game against the Baltimore Orioles, the Orioles had a 60 percent chance of winning (based on how often home teams win with the score tied in the bottom of the eighth inning).
Betances cut that down to 50 percent by getting through the eighth. With the score tied in the bottom of the ninth, the Orioles had a 63 percent chance of winning. Betances got through that inning too, cutting the Orioles chance of winning to 50 percent again.
For that, Betances earned 23 percentage points (0.23) to represent how he cut the Orioles' chance of winning, first by 10 percent and then by 13 percent (23 being 10 plus 13).
Opponents vs. Betances and Kimbrel
2014 Season
Add up all of Betances WPA points earned and lost over the course of the season and you come to this conclusion: The Yankees All-Star setup man ranks as the third-most important pitcher in the American League this season, trailing only Felix Hernandez and Jake McGee.
Betances is legitimately All-Star worthy. The words to describe his numbers are spectacular, amazing and unbelievable. He's got 1.46 ERA, an 0.70 WHIP and has 84 strikeouts, 16 walks and one home run allowed in 55 1/3 innings.
How many other pitchers have posted that ERA, that WHIP and that strikeout per nine rate (13.7) over that many innings prior to the All-Star Break?
None.
Only two other pitchers have done it if we lower the criteria to 30 innings pitched -- Dave Smith of the 1987 Astros and Craig Kimbrel of the 2012 Braves.
Kimbrel, arguably the game's best closer now that Mariano Rivera is retired, is the closest comparable for Betances. Both throw extremely hard and have ridiculous fastball-slider combinations. But at least to this point, Betances has outpaced him in all three of the slashline stats (see the chart on the right).
Overwhelming From beginning to end
This is what it looks like to face Betances this season.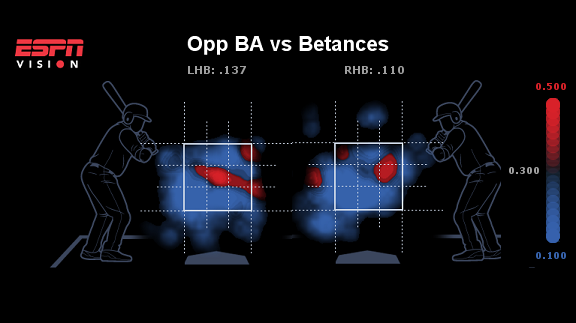 It starts with the first pitch of an at-bat and Betances turning a hitters' turn into a guessing game. Betances throws fastballs about 56 percent of the time and sliders 44 percent of the time on the first pitch.
That's an unusual combination for a power arm. Kimbrel is a 64/36 fastball-slider split. Greg Holland, another pitcher comparable to Betances, throws a fastball on the first pitch 73 percent of the time.
If you don't get Betances on the first pitch (and he's only given up four first-pitch hits this season), good luck.
In fact, if you fall behind 0-1, you could probably start heading back to the dugout and save some time.
Those who do fall into the 0-1 hole are a combined 7-for-108(!) with 61 strikeouts and five walks against him.
If you're 1-0, at least you have a chance -- 32 percent of hitters who get ahead of Betances reach base -- but it's still a below-average one (the average hitter reaches base after getting to 1-0 38 percent of the time).
Move ahead a little bit to two strikes and again, you have little chance. Opponents are 8-for-126(!) with 84 strikeouts and seven walks in two-strike situations against Betances.
Of those 84 strikeouts, 69 have come with the slider. Amazingly, Betances has the second-most slider strikeouts of anyone in the game, trailing only the 77 by Padres All-Star starter Tyson Ross.
Looking ahead
It would be unfair to expect Betances to be this good for an entire season. A 55-inning/23-hit ratio is almost impossible to sustain over 162 games. But the good news for the Yankees is this: The ERA-predicting stat xFIP (expected Fielding Independent Pitching) gauges future performance based on strikeouts, walks and fly-ball rate.
That stat has Betances at 1.85, and I think any Yankees fan would take that. It's the third-lowest in baseball.
The good news for the Yankees is the major league leader in that stat (among those with at least 30 innings pitched) happens to be another Yankees pitcher: closer David Robertson (1.20).