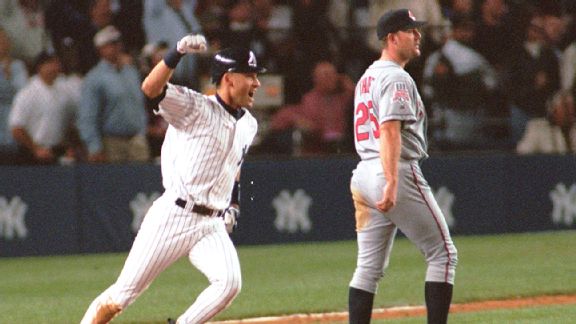 AP Photo/John Dunn
Derek Jeter circa 1997, celebrates a postseason home run against the Indians.All season we'll be tracking Derek Jeter as he prepares to play in his final series against each team. Next up on the list is the Cleveland Indians, against whom the New York Yankees start a series on Friday.
Career versus Indians
Regular Season
.336 BA
.399 OBP
.454 Slug Pct
183 hits
98 runs scored
10 home runs
70 RBI
136 games
Postseason
.238 BA
2 HR
9 runs scored
5 RBI
15 hits
15 games
By the numbers
• Jeter has a .336 batting average against the Indians, his highest vs any AL team.
• The Elias Sports Bureau notes that the only Yankees player that has a higher batting average and at least 250 at-bats against the Indians is Babe Ruth (.363).
• Jeter has been even better against the Indians at Progressive Field, hitting .354 over 70 career games. That is the highest batting average ever at the ballpark by any player with at least 125 at-bats.
• In 1999 Jeter compiled a 1.682 OPS in 22 plate appearances at Progressive Field, going 8-for-15 with a double and two home runs over four games. That is his highest OPS in a single season at any current American League ballpark.
• Jeter had multiple hits in eight straight games against the Indians spanning the 2009 and 2010 seasons. That matches the longest multi-hit streak by any player against the franchise over the last 100 seasons. The other players to do it are Ty Cobb (1923), Frank O'Rourke (1927), Al Bumbry (1980-81) and Terry Steinbach (1991).
• Although Jeter hit his first career homer against the Indians (see below for more), he has just 10 career homers against the Tribe, matching the Royals for his fewest vs. any AL team (excluding the Astros).
• Jeter hit particularly well against former Indians pitcher and current teammate CC Sabathia. He went 13-for-26 against Sabathia in the regular season (and 0-for-3 in the playoffs). Jeter's .500 batting average against Sabathia in the regular season is tied for his second-best against any pitcher against whom he has at least 25 at-bats. He hit .500 against Eric Milton and .538 against current Orioles pitcher Brian Matusz.
• Jeter struggled against the Indians during the postseason with a .294 on-base percentage and a .691 OPS in 15 career games. Both of those marks are his lowest in the playoffs against any AL team.
• He has performed even worse on the road vs the Indians in the postseason with a .182 on-base percentage and .343 OPS in eight career games at Progressive Field. Both of those marks are his lowest in the playoffs at any AL ballpark.
They said it
"When you talk about Derek Jeter, you're talking about 'The Captain.' One of my favorite things about him is his professionalism, the way he goes about his business on and off the field. And he does it in the biggest media market on the planet for that many years and he's done it the right way. I couldn't have been more blessed to play with him and have the opportunity to be around him."
-- Jeter's former teammate, Nick Swisher
Jeter's best moments
• April 2, 1996 -- On Opening Day of his first full season, Jeter took Indians pitcher Dennis Martinez deep in the fifth inning at Cleveland for his first career home run in the Yankees 7-1 win.
"I was just thinking, 'Don't catch it.' I haven't hit too many, so I don't know what it feels like. I wouldn't expect too many more," Jeter told reporters after the game.
• July 23, 1999 -- Trailing 8-7 in the bottom of the 10th inning against the Indians, Jeter came to the plate with the bases loaded and two outs and delivered one of the biggest hits of his regular season career. His game-ending single off Indians reliever Michael Jackson scored Luis Sojo and Jorge Posada to give the Yankees a dramatic 9-8 win. The Indians are the only team against whom Jeter has multiple extra-inning go-ahead RBIs
That hit remains Jeter's only career walk-off RBI with his team trailing in the game.
Katie Sharp is a writer for the Sweet Spot blog, It's About the Money. Mark Simon is ESPN Stats & Information's Digital Publishing specialist and writes about the Mets and Yankees for ESPNNY.com.