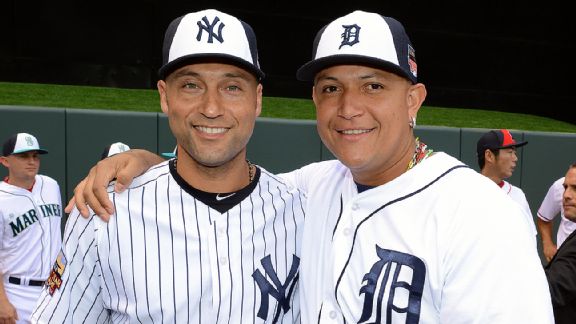 Mark Cunningham/MLB Photos/Getty Images
Among those Derek Jeter posed for photos with at his final All-Star Game was slugger Miguel Cabrera.All season we'll be tracking Derek Jeter as he prepares to play in his final series against each team. Here's a look at his career against the Detroit Tigers, whom the Yankees open a series against on Tuesday.
Career
Regular Season
.325 BA
.399 OBP
.444 Slug pct
188 Hits
12 HR
113 Runs scored
74 RBIs
142 Games
Postseason
.333 BA
15 Hits
3 HR
10 Runs scored
3 RBIs
10 Games
By the numbers
• From 1996 to 2001, Jeter was 112-for-267 (a .419 batting average) in 65 games against the Tigers. That is a 279-hit pace over a 162-game season!
• Jeter hit .548 in 44 plate appearances against the Tigers in 2000. That is his highest batting average in a single season against any opponent (minimum four games).
• That .548 average against the Tigers in 2000 is also the highest by any player against the Tigers in a single season over the last 100 years (minimum 40 plate appearances).
• Jeter's .399 on-base percentage vs. the Tigers is the fifth-highest by any Yankee against the Tigers (minimum 250 plate appearances), behind only Babe Ruth (.485), Lou Gehrig (.468), Mickey Mantle (.406) and World War II-era first baseman Nick Etten (.402).
• Jeter posted a .360/.429/.547 line in 22 games at the old Tiger Stadium. That is his highest batting average, on-base percentage and slugging percentage at any of the 18 ballparks where he played at least 15 games.
• However, he has just a .260/.315/.355 line in 46 games at Comerica Park. That on-base percentage and slugging percentage are both his worst at any of the 22 ballparks where he has played at least 10 games.
• Jeter had a 25-game hit streak against the Tigers spanning the 1999-2001 seasons (during which he hit .476!), the fifth-longest hit streak against the Tigers by any player in the last 100 seasons. It is also his longest hit streak against any team in his career.
• Jeter has nine triples against the Tigers, matching the Orioles for his most vs. any team.
• Jeter's only career multi-triple game came on September 10, 1996 in a 9-8 win over the Tigers in Detroit.
• Jeter went 5-for-5 with two doubles and homer in Game 1 of the 2006 ALDS against the Tigers. He is one of three players in postseason history to go 5-for-5 or better in a game, joining Marquis Grissom in Game 4 of 1995 NLDS and Carl Crawford in Game 4 of the 2008 ALCS. Jeter is the only one of those three players to also hit a homer in the game.
• The Yankees are 3-7 in postseason games against the Tigers with Jeter in the lineup. That is his worst personal win percentage against any team in the postseason. The Tigers are the only AL team that he has never won a playoff series against (among those he has faced).
• One of Jeter's biggest nemeses' is a Tigers pitcher. He's 2-for-18 in his career against Rick Porcello (combining regular season and postseason), tied for his third-worst batting average against any pitcher versus whom he has at least 15 at-bats
They said it
"No one is worth $1 million. But if one kid is worth that, it's this kid."
Former Detroit Tigers Hall-of-Fame pitcher and Astros scout Hal Newhouser to his supervisor after watching Jeter play. The Astros would not follow Newhouser's recommendation and Jeter would be available to be drafted by the Yankees.
Jeter's best moment
September 25, 2000 -- Jeter beat out an infield single in the fifth inning against Tigers starter Steve Sparks, recording the 1,000th hit of his career. The hit was the lone highlight for the Yankees in a 15-4 loss to the Tigers.