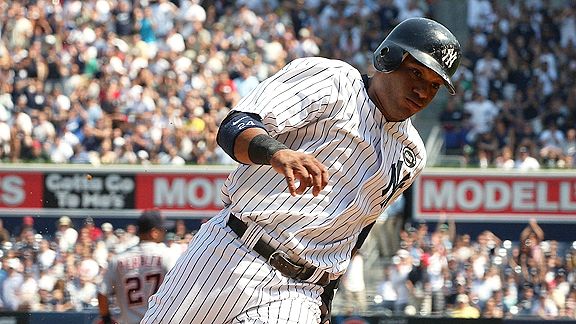 Andrew Burton/Getty Images
Robinson Cano hit a tiebreaking double and two-run homer in a nine-run sixth inning Thursday.
No Alex Rodriguez? No problem. At least not with Robinson Cano manning A-Rod's spot in the lineup.
Cano hit cleanup for the third straight game on Thursday afternoon. And he homered for the third straight game. A-Rod probably doesn't have to worry about losing his hold on the fourth spot in the lineup, but Cano has proved to be a more than capable fill-in.
Cano, subbing for an injured Rodriguez (strained left calf) in the No. 4 hole, had three hits and three RBI in the Yanks' 11-5 dismantling of the Detroit Tigers in the Bronx. He has five homers and 11 RBI in ten games hitting in the cleanup spot.
"He has been tremendous," Yankees manager Joe Girardi said. "He's a dangerous hitter and he had a big day again today. We've been without Alex for a few days and he's stepped up. He's stepped up all year for us."
Cano did most of his damage in the Yankees' nine-run sixth. He drove in the first run of the inning with a double to left-center off of Tigers starter and West Orange, N.J., product Rick Porcello. He then capped the inning off with a two-run homer off of reliever Eddie Bonine.
"Robbie just did what he's been doing all year," Nick Swisher said after the Yankees won the series finale over Detroit. The Yankee bats broke out again without A-Rod on Thursday afternoon. They've scored 26 runs in the three games Rodriguez has missed with a strained left calf.
But for Cano, Thursday afternoon was just another day to add to his campaign for the 2010 American League MVP.
The 27-year-old enters Friday night's series-opener against the Mariners hitting .325 with 151 hits, 24 HR and 78 RBI. He also has a .566 slugging percentage.
"He's continued to come up with big hits all year," reliever Joba Chamberlain said.
Cano's numbers reveal a more patient approach at the plate. The second baseman has drawn a single-season career-high 44 walks, breaking his previous mark of 39 (set in 2007).
Cano, who was unavailable for comment after the game, is fifth in the American League in hitting, eighth in home runs and 11th in RBI.
GETTING HIS PHIL: Yankees starter Phil Hughes improved to 15-5 by allowing two runs over six innings in the Yanks' win on Thursday. Girardi pulled Hughes after the Yankees took an 11-2 lead in the bottom of the sixth. Girardi said Hughes probably could have thrown one more inning. But with the Yanks up nine runs, Girardi called on Sergio Mitre, who allowed six hits an dthree runs in three innings to earn the save.
Girardi was also thinking about Hughes' innings limit when he pulled the right-hander. Hughes finished the day at 140 2/3 innings on the season. His innings limit is thought to be around 175. If he continues to start every five days and averages six innings per start, he will reach the innings limit in late September.
GRAND PLAN: Curtis Granderson continues to look good at the plate since correcting a flaw in his swing with hitting coach Kevin Long earlier this month. Granderson is 9-for-30 with three homers and four RBIs since meeting with Long prior to the Yanks' series against the Rangers last week. He finished the series against Detroit 6-for-13 after going 1-for-3 with an RBI on Thursday.
"His at-bats have been really consistent," Girardi said before the game. "We think that he's hit the ball to all fields better, he's driven the ball to all fields better."
POSADA PASSES MUNSON: Jorge Posada chased Porcello with an RBI single in the sixth. It was Posada's 1,559th career hit, moving him to 17th place on the Yankees' all-time hit list passing Thurman Munson. Posada considers Munson an idol. He wore a No. 15 decal on his mask last season on Aug. 2 -- the 30th anniversary of Munson's death.
"I really enjoy the way he played and I look up to him," Posada said. "It means a lot to me that I passed him."