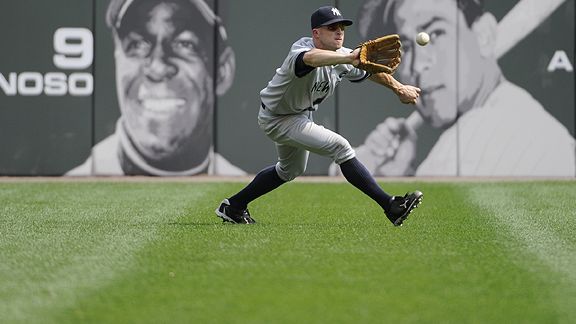 Ron Vesely/Getty Images
Brett Gardner's defense represents a huge part of his value to the Yankees.
It was a couple of months ago that we wrote in this space how a potential injury to Brett Gardner would be of great significance to the Yankees.
Of the dozen reasons listed, 11 dealt with his offense, and that hasn't been the same since he injured his wrist after being hit by a pitch on June 27. He may be getting another MRI to check on that wrist today.
Gardner's defense has been stellar even during his offensive struggles, and it's that which has Yankees fans hoping that Gardner stays in the lineup for the forseeable future.
Brett Gardner's LF Defense
2010 Ratings
There are two defensive metrics available to the public and both of those agree that Gardner's defense is a huge asset to the Yankees. He trails the leftfielder the Yankees will see today, Carl Crawford, by one run in Defensive Runs Saved (tracked by Baseball Info Solutions), with 13. Gardner actually has a total of 16 runs saved this season, when you factor in the three he's accumulated in centerfield.
Ultimate Zone Rating (UZR), devised by baseball statistician Mitchel Lichtman, and tracked on Fangraphs.com also rates them almost equally in left field. Crawford has an edge in overall rating (22 to 16.9) for 2010 but Gardner builds an advantage when you pro-rate both of their numbers to 150 games at the position (36 to 30.3).
These numbers tend to take on more meaning, the more data you accumulate, so it's not that Gardner necessarily rates better than Crawford.
To the eye, Crawford definitely looks like a better fielder -- he rates significantly better than Gardner in another metric tracked by Baseball Info Solution-- "Good Fielding Plays" (think Web Gem nominees) but it's reasonable to say the two are in the same ballpark.
That's attributable to two factors-- Gardner's ability to turn balls into outs, and his throwing arm.
One of the components of UZR is a range rating, basically accounting for how often balls hit to fielders are turned into outs.
Gardner is not only turning a lot of balls into outs, he's getting credit for turning balls into outs, in spots in which other leftfielders are not doing so at the same rate (likely due to a combination of factors -- his speed, his instincts when the ball hits the bat, and his positioning among them).
Gardner's range rating is worth 10.9 runs above an average leftfielder and 11.5 runs above any outfielder. Among leftfielders, the only player better in the majors is Crawford. Among all outfielders who have played at least 500 innings, the only ones better are Crawford and Andres Torres of the Giants.
What is are these runs worth? By sabermetric standards, a lot-- a little more than the equivalent of one win.
Think of all the times you've said "nice play" to yourself when watching Gardner this season. Think of how many innings would have been different had Gardner not made the play. That's a lot of potential runs.
Where is Gardner's range best? On-field baseball people we've talked to like to say that Gardner gets a good initial read on the ball, allowing him to get back to the spot where he can make the catch.
His effectiveness at that can be ascertained by looking at his plus-minus rating, an alternative to UZR's range rating, provided by Baseball Info Solutions. Gardner's reputation is for wall-crashing catches, so it's not surprising he rates a +9 on balls (+4 in left, + 5 in center) that BIS gives a "deep" classification (estimated at being hit more than 350 feet).
The +9 is an estimate of the number of bases that Gardner denied a hitter compared to what the average fielder would have done.
Gardner's other tough-to-replace attribute is his throwing arm, which brings value in the form of both assists and deterrence. Though his two-step throwing approach may cause some baseball folks pause, Gardner's 11 outfield assists rank tied for second-most in the majors, and his nine in leftfield are second to Delmon Young of the Twins.
Singles to LF, Man on 2nd
Yankees Defense in 2010
The deterrent comes on singles to left with a runner on second, of which there have been 20 with Gardner out there this season. Of those 20, Gardner threw three out at the plate and held another nine at third base. Only eight runs scored, a small total, relatively speaking (and likely attributable both to Gardner's arm and the speed that allows him to play shallow).
Gardner's 60 percent "deterrent rate" (12 runners either held or were thrown out, out of 20) rates fifth-best in the majors (out of 49 players rated), just ahead of Crawford. He also rates well above average for leftfielders in keeping runners from scoring from first on a double, and from going first to third on singles (the raw data can be found here on Baseball-Reference.com)
Across the board, Gardner compares very favorably to the player who would be replacing him in the event of injury, Austin Kearns.
Kearns has only 98 games of experience in left field and the results have not been good. He rates below average in this season in his range rating (-2.8 runs) and plus/minus (-8 bases). Kearns biggest weakness is Gardner's greatest strength: handling balls hit 350- feet (-12 bases). His arm rates about average, not at the same level as Gardner.
So it seems right for the Yankees fan to be a little nervous today, and not just because first place is on the line against the Rays. But also because a player of perhaps more value than they realize, now has a question attached to his status.
Mark Simon is a researcher for Baseball Tonight.