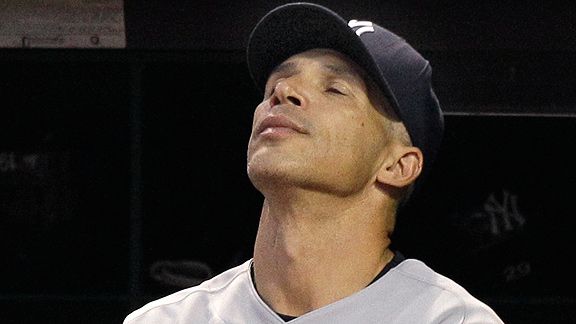 Amy Sancetta/AP
It was a rough week for Joe Girardi, and for stat-loving Yankees fans, both of whom suffered through the team's struggles.
Six games on the schedule this week…five games decided by a single run, four one-run losses, three walk-off defeats, two series losses ... and just one win. Here's the rest of your Week in Yankeemetrics, with major-league help from the Elias Sports Bureau, Stats LLC, and the folks at Baseball-Reference.com:
SEPTEMBER 10 vs RANGERS
In this wild, 13-inning marathon, the Yankees left 18 runners on base. That's tied for the sixth-most men left on base in a Yankee loss since 1920.
But don't worry Yankee fans. Three of the five teams that left more men on base went on to win the World Series that year and were among the all-time greatest teams in franchise history: the 1927 team left 23 men on base in a 21-11 loss to the Red Sox, the 1956 team left 20 men on base in a 13-7 loss to the Red Sox, and the 1998 team left 22 men on base in a 4-3 loss to the Tigers.
SEPTEMBER 11 vs RANGERS
It was another crushing walk-off loss for the Yankees, but it certainly produced some memorable notes.
The obvious: Mariano Rivera had his first career bases-loaded hit batsman, and his first career game-ending hit-by-pitch.
The not-so-obvious: Rivera allowed two runs and failed to get more than out for the 2nd time this season. It's the first time in his career he's had two such games in a single season. Only five other times has it even happened once: in 2007, 2004, 2001, 1997 and 1996.
Rivera lost by walk-off twice this season to the Rangers, the first time in his career he lost twice by walk-off to the same team. And his regular-season hit-by-pitch total now matches his uniform number (42).
While Rivera's hit-by-pitch was probably the most shocking pitch of the night, A.J. Burnett probably tossed the most non-shocking pitch of the night when he threw his 15th wild pitch of the season. After throwing 17 wild pitches last season, he now becomes the first Yankees pitcher with consecutive seasons of at least 15 wild pitches. In fact, only two other pinstripe hurlers have even had 15 wild pitches in a season: Tim Leary in 1990 and Jason Grimsley in 2000.
And from our friends at the Elias Sports Bureau:
- It's the first time the Yankees lost a game on a walk-off hit by pitch since May 23, 1979 at Tigers when Jim Kaat hit Steve Kemp.
- The last time the Yankees suffered back-to-back walk-off losses was in May of 2001 in Oakland.
SEPTEMBER 12 vs RANGERS
Yankees were held to just two hits today. It's the fourth time this season they've been held to two hits or fewer. That's their most such games in a season since 1990, when they did it six times.
Not much more to say here...at least they didn't lose in walk-off fashion.
SEPTEMBER 13 vs RAYS
The heartbreaking walk-off losses continue....this was their third walk-off loss in their last four games. According to the Elias Sports Bureau, the last time the Yankees had three walk-off losses within a four-game span was June 20-23, 1988 against the Tigers.
But this 1-0 walk-off loss in Tampa was also quite a rare type of defeat for the Bronx Bombers. The only previous time in franchise history that the Yankees were shut out and lost on a walk-off home run was on May 26, 1970 when they lost to the Tigers 3-0 on a walk-off home run by Willie Horton off of Mel Stottlemyre.
CC Sabathia pitched a gem, throwing eight scoreless innings and allowing just two hits, but he didn't get a decision. He is the fifth Yankees starter in the live ball era (since 1920) to throw at least eight scoreless innings while giving up two or fewer hits in a no-decision. The last guy to do it was Roger Clemens on June 18, 2003 against....the Rays. The three others in this exclusive group are Melido Perez (1993 vs the Mariners), Ron Guidry (1980 vs the Rangers) and Stan Williams (1964 vs the Twins).
Lost in the loss, Jorge Posada's streak of 10 straight successful stolen base attempts. He was caught for the first time since 2004.
SEPTEMBER 14 vs RAYS
Jorge Posada was the hero of this game, with his towering pinch-hit homer in the top of the 10th inning that gave the Yankees the win in Tampa. Not only was it his first career go-ahead, extra-inning pinch hit homer -- but he also, according to Elias, was the first Yankee to hit a go-ahead, pinch hit home run in extra innings since the immortal Matt Nokes on May 8, 1993 at Detroit.
Also of note: The Yankees had the No. 1 and No. 2 Web Gems on Baseball Tonight. Greg Golson's throw was voted No. 1 by fans, the Yankees MLB-leading 14th No. 1 Web Gem of the season. Curtis Granderson's diving catch to end the ninth inning was voted No. 2.
The Yankees rank second in team Web Gem scoring with 129 Web Gem points (teams get five points for a No. 1 gem down to one point for a No. 5 gem). The Reds lead the majors with 145 points. Mark Teixeira and Nick Swisher currently lead in Web Gems for first base and right field, respectively.
With Mariano Rivera rebounding with a scoreless inning, we note, if Rivera gets through the season with an ERA of 1.50 or below, he'd have three seasons of 50+ innings and a 1.50 ERA or better. The only pitchers to do that pitched 100+ years ago-- Hall of Famers Walter Johnson (5), Mordecai Brown (4), Ed Walsh (3) and Christy Mathewson (3).
SEPTEMBER 15 vs RAYS
With this defeat, the Yankees lose the ROAD season series with the Rays for just the second time in the 13-season history of the rivalry. The only other time they lost a season series played in Tampa was in 2000.
Phil Hughes continues to struggle in finishing off batters. He allowed his eighth home run after an 0-2 count, which ties Randy Johnson in 2006 for the most homers allowed after an 0-2 count by a Yankee pitcher since 1988 when pitch count data was first available. And it was his 11th longball allowed with two strikes...but that's not so notable because Javier Vazquez has allowed 11 homers with two strikes this season.
Katie Sharp and Mark Simon are both researchers on ESPN's baseball coverage