It's funny how you can witness history and not even realize it.
Any baseball fan who's been to a fair share of games has probably seen a few players pick up their first MLB hit. But at the time, you don't really think about it. Sure, I could embellish and tell you that I remember Derek Jeter's first hit well and write some poetic rambling about how I knew he was destined for stardom. But the truth is, despite being one of less than 11,000 folks to see Jeter's first hit in person on May 30, 1995, at the Kingdome, I don't remember a damn thing about it.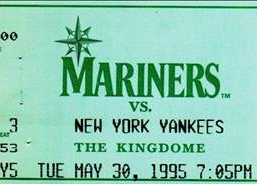 I couldn't tell you if it was a ground ball with eyes, a dying quail or a line drive to the gap.
In addition to a first hit not being extremely memorable at the moment it happens -- except to the guy who hits it -- the other issue is that I'm a Mariners fan. Beating the Yankees is always a big deal, and my two roommates and my future wife weren't going to miss a chance to see the Bronx Bombers come to town. So, while the game is now famous for Jeter's first hit, the hit I remember from that game was Rich Amaral's two-out single in the bottom of the eighth that plated Tino and Edgar Martinez to help the Mariners eke out a come-from-behind win.
I do remember the Kingdome going nuts; it was tough going for M's fans at the time, as we'd just lost Ken Griffey Jr. to a wrist injury a few days earlier.
I was in attendance the following night as well, when Jeter collected another milestone (first MLB RBI in an 11-9 slugfest). But once again, I have no recollection of that detail. What I do remember -- and most Yankees fans will, too -- was that Randy Johnson pegged Jim Leyritz with a fastball and cleared the benches. Guess I was also in attendance for Jeter's first MLB benches-clearing brawl. Who knew?
But the best part of this story is that I always throw my ticket stubs in an old shoe box with a couple of notes from the game. When ESPN.com launched its Passport feature a couple years back, I went digging through the box and made my discovery. The May 30 stub netted me $306 on eBay. Guess it pays to be part of history, even if you don't remember it.
Ted Bishop is a Senior Director of Digital Partnerships for ESPN.com.