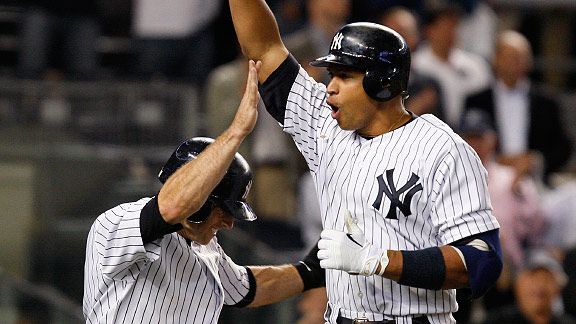 AP Photo/Kathy Willens
Alex Rodriguez is looking for a little bit of hitting streak history this weekend against the Red Sox.
In the spirit of togetherness, with Yankeemetrics writer Katie Sharp on vacation this week, we fill in on the Yankees statistical beat with this set of notes (helped by Baseball-Reference.com). Before we review the week that was, let's look ahead to a few numerical angles of note heading into the weekend.
A-Rod on Track?
Alex Rodriguez enters the weekend with hits in his last 16 games against the Red Sox. Only five Yankees have a longer hitting streak against the Red Sox in the Live Ball Era (since 1920) – Joe DiMaggio (33, 1937-1938), Bob Meusel (23, 1926-1928), Lou Gehrig (18, 1930-1931), Gil McDougald (18, 1952-1953), and Derek Jeter (18, 2007-2008).
Rodriguez's longest hit streak against an opponent is a 24-gamer against the Tigers from 2001 to 2004. His longest vs the Red Sox is 20 games, from 1996 to 1998.
A Potential Nemesis for Granderson
Curtis Granderson has struck out 11 times in 24 career at-bats against Josh Beckett. That's two strikeouts shy of matching his most whiffs against any pitcher. He's fanned 13 times in the regular season against Mariners ace Felix Hernandez.
Granderson has whiffed in three of his last four at-bats against Beckett, but that's not as bad as his stretch from 2006 to 2008 when he fanned in six straight plate appearances against him.
Lester is More
Jon Lester will be going for a little history on Sunday Night Baseball. Lester held the Yankees scoreless in his last two starts against them, going at least six innings in each. Only two pitchers since 1920 have had longer such streaks-- Britt Burns (four straight, 1981-1982) and Schoolboy Rowe (three straight, all shutouts, 1934-1935).
Now for the week-in-review:
Friday, May 6-- 'Cary'ing The Load
Our obscure Yankeemetric reference of the week: Ivan Nova allowed just one run and two hits in seven innings. He's the first Yankee to pitch that well (two hits or fewer in seven-or-more-innings) in Texas against the Rangers since Chuck Cary allowed two hits in 8 2/3 innings in a 5-4 loss to the Rangers in 1989.
Saturday, May 7-- All Rhodes (eventually) Lead to Winning
Arthur Rhodes got a rare win against the Yankees, improving to 5-9 against them. He'd lose on Sunday, reverting back to form by allowing two runs. Rhodes' ERA against the Yankees is now 7.52, worst among active pitchers with at least 30 innings against them.
Sunday, May 8-- Jeter in Elite Company
4 Hits, 2 HR, 3 RBI, SB in a Game
By a Yankee in Live Ball Era
From Stats and Info teammate, Jason McCallum, Derek Jeter had four hits, two homers, three RBI and a stolen base. The only other player to do that in the majors in the last two seasons was Jeter's teammate, Alex Rodriguez, who did it last season.
Tuesday, May 10-- Mariano Brings Royal Pain
The Elias Sports Bureau tipped us off that Mariano Rivera converted his 25th straight save chance against the Royals. That's impressive, but still eight save conversions shy of his best streak against an opponent, a run of 33 straight against the Rays from 1998 to 2005.
Wednesday, May 11-- What an Unusual Loss
A.J. Burnett yielded only one hit in seven innings. It's the first time in the Live Ball Era (since 1920) that a Yankees starter allowed one hit in seven-or-more-innings at home, and the Yankees lost the game. The Yankees were previously 40-0 in regular season/postseason home games in which their starter performed as well as Burnett.
Curtis Granderson's home run gave him 12, marking the 11th time in the Live Ball Era that a Yankees outfielder reached a dozen homers by the time of his teams 34th game. But the only other outfielders to do it for the Yankees are Babe Ruth (five times) and Mickey Mantle (once, in 1956).
This was the second time the Yankees allowed four hits in a HOME LOSS this season (also on April 15, a 5-3 loss to the Rangers). The last time they allowed four hits or fewer in two HOME LOSSES in the same season was 1982 (two losses in three days to Angels)
Since 1920, the Yankees have four home extra-inning losses in which they allowed four hits or fewer-- in 1958 (Orioles), 1964 (Twins), 2000 (Twins), and 2011 (Royals).
May 12-- No Whiff, No Win
The Royals won a series in Yankee Stadium for the first time since 1999 and did so in unusual fashion. The Yankees lost the game despite not striking out once.
The Yankees have now had three whiff-free losses in the last 25 seasons (ie: starting in 1987). The most recent was a 7-1 loss to the Tigers on June 19, 2001.
Since 2000, teams that don't strike out in a game are 100-49, so in two out of three instances, that should be a Yankees win. Instead, it's a loss that sends the team into a key series on a down note.