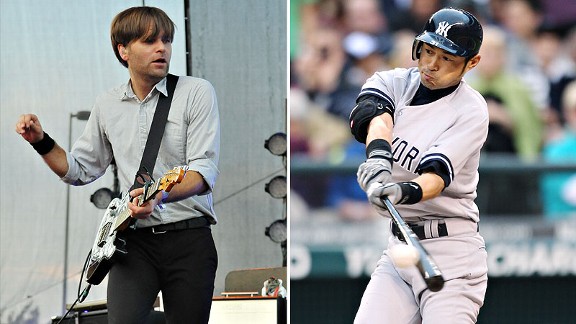 Getty Images
Rocker Ben Gibbard paid homage to new Yankee Ichiro Suzuki.Seattle-based rocker Ben Gibbard, of Death Cab for Cutie and The Postal Service fame -- and, full disclosure, one of this writer's favorite musicians -- took to the Web last night to bid a fond farewell to former Mariner and brand new Bomber Ichiro Suzuki.
Gibbard posted a sugary pop song called, fittingly, "Ichiro's Theme" -- celebrating the "unbelievable" outfielder with a catchy chorus of "go, go, go, go Ichiro!" -- and helpfully advising (Yankees) fans not to take their eyes off Ichiro, because at "any given moment he can completely blow your mind."
"I wrote this a few years ago," Gibbard posted on SoundCloud.com. "Today seems like the best day to let you all hear it. Thank you, Ichiro."
Take a listen below (or click here if the player doesn't appear):
There's no accounting for taste, and it is a one-off jam, but Yankees fans have to at least appreciate the sentiment, right? Let us know what you think in the comments section.