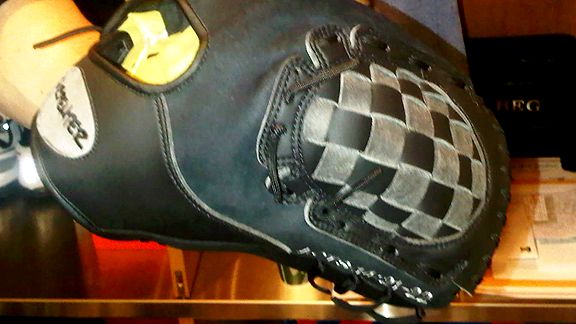 Ian Begley/ESPNNewYork.com
Brian Gordon sent the synthetic glove he used in his first start with the Yanks to the Hall of Fame.
Brian Gordon may not be in the spot light in the Bronx right now, but his glove lives on.
Gordon sent the glove he used in his June 16 start against the Rangers to the Hall of Fame.
According to Gordon, the Hall called for his glove because it is the first synthetic glove to be used in a major league game.

#22 RP
New York Yankees
2011 STATS
"It's pretty neat, it's pretty special," said Gordon, the journeyman minor leaguer who made two starts for the Yankees.
Gordon (0-1, 5.23 ERA) was sent down on Saturday to make room for Bartolo Colon.
Gordon said his glove, designed by Scott Carpenter, is made of microfiber and is much lighter than a traditional leather glove. He said there are "about 10" players in the minor leagues using the glove.
"It just made sense to me," said Gordon, explaining his decision to use the glove. "If I'm going to be 60 feet away from these big animals trying to hit line drives, I want something a little lighter."