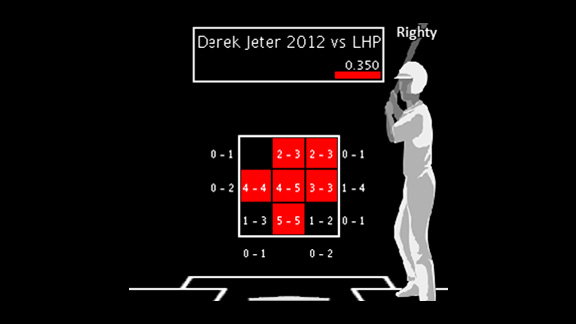 Derek Jeter can do no wrong against lefties this season
David Price Matchups to Watch
The Price that the Yankees see on Thursday has a different approach than the one who used to be reliant on locating his fastball around the outside part of the plate.
Notable Yankees vs Price
Career
Price has increased the use of his other pitches (changeup and slider) and throws a fastball that appears to be more of a cutter now.
Price throws his fastball/cutter on the inner-third of the plate to righties on more than half of his pitches. In 2010 and 2011, he came inside with that pitch less than 30 percent of the time.
This is working very well. He's 4-0 with a 1.55 ERA and 27 strikeouts in 29 innings in his last four starts. In his last start against the Athletics, his fastball netted 11 outs and only one baserunner (on a walk).
We'll see how the new Price fares against two right-handed hitters who figure to pose a challenge. Nick Swisher is 10-for-24 with eight walks against Price.
Derek Jeter is 12-for-his-last-28 against Price, including his 3,000th career hit last season.
Price worked Jeter inside with seven of his 10 pitches in their first meeting of the season, but Jeter was still able to get two hits on the other three pitches thrown to him.
The heat map above shows how Jeter has fared against left-handed pitching this season. He's an amazing 22-for-28 in at-bats that end with a pitch in the strike zone against them.
CC Sabathia Matchups to Watch
Sabathia has looked much more like his old self in his last three starts, lasting at least eight innings in each one.
He's upped his ground ball rate from 41 percent in his first three starts to 53 in his last three, and the Yankees have turned 29 of the 35 grounders he's yielded into outs.
That an 83 percent success rate, 10 percentage points higher than their efficiency turning grounders into outs this season.
The most interesting matchup from this game will be Sabathia against Carlos Pena.
Pena was in a 1-for-29 slump against Sabathia before hitting a grand slam against him in the first inning on Opening Day. Sabathia struck him out in the next two at-bats, something he's done to Pena five times in their last seven confrontations.
Inside the Matchup
David Price and CC Sabathia have gone head-to-head six times, with the Rays winning each of the previous five meetings.
Price is 3-0 with a 1.56 ERA in those five meetings. Sabathia is 0-3 with a 5.91.
Off the Mark
Since his two-homer, six-RBI game against the Red Sox, Mark Teixeira is 8-for-56 with six RBI in his last 15 games, though much of that is against right-handed pitching.
He's 3-for-18 in that stretch against lefties, though with only one strikeout.
Teixeira's ground balls are not finding holes from either side of the plate. He's 0-for-his-last 12 when hitting a ground ball against a left-handed pitcher.
Endgame questions?
Both teams face a question of who closes, given that David Robertson has thrown 44 pitches and Rafael Soriano has thrown 39 for the Yankees over the last two days, and Rays closer Fernando Rodney threw 28 pitches in his first two-inning stint of the season.
The Yankees could come back with Soriano, who has not pitched on three consecutive days in the regular season since doing so against the Yankees, September 13-15, 2010.
The Rays likely option would be Joel Peralta, with whom the Yankees are familiar. He allowed four of eight Yankees he faced to reach base, including a three-run homer to Swisher earlier this season.
Kenton Wong, Brandon Mendoza, Lee Singer, Mike Proia, Dan Tomaro, J.B. Kritz, and Mark Simon contributed to this post