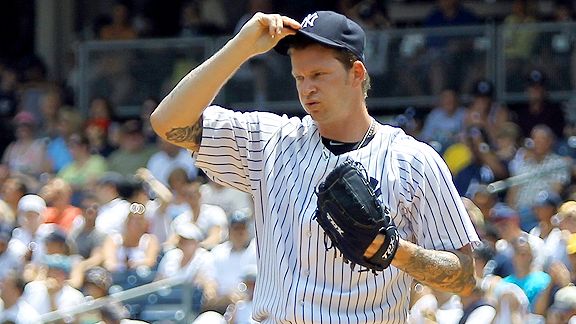 Debby Wong/U.S. Presswire
A.J. Burnett's pitching struggles have led to a lot of grimacing recently.
A.J. Burnett What2Watch4
Who knows what the Yankees will get from Burnett, who is 0-3 with a 6.00 ERA in his last six starts. He failed to earn a win in his last start, leaving after 4 2/3 innings despite being spotted a 13-1 lead against the White Sox.
Burnett's curveball was a bit of an issue in that game. He yielded four hits with it once he had that 12-run lead, including a three-run home run to Carlos Quentin.
Burnett's curveball has been more effective at getting outs this season, but when it's hit, there's significant damage done. Burnett has already given up 14 extra-base hits with his curveball this season, after yielding only 10 in all of 2010 (for those curious, one every 54 thrown this season; one every 85 thrown last season).
Burnett doesn't have many great options against Angels leftfielder Vernon Wells. Wells is 8-for-20 against Burnett, with four hits and two home runs against Burnett's fastball, and four hits, including a homer against Burnett's curve.
Dan Haren What2Watch4
Haren is 4-1 against the Yankees, though all four wins came from 2005 to 2007.
Haren has pitched three gems in a row, allowing three earned runs, 14 hits and three walks in 24⅔ innings pitched.
Key for him in that stretch: a slider, which some call a cutter, which neutralizes left-handed hitters. Haren has gotten 29 outs against lefties with this pitch in his last three starts, yielding five hits.
Angels vs Yankees (Regular Season)
At Yankee Stadium (since 2009)
Left-handed hitters have a .257 on-base percentage against Haren in 2011. Among the AL's right-handed starters, the only two better are Justin Verlander (.228) and Josh Beckett (.251).
One key lefty will be Mark Teixeira, who homered three times in a nine at-bat stretch against Haren in 2005, but hasn't homered in 13 at-bats against him since.
Derek Jeter What2Watch4
Jeter is 1-for-his-last 10 against Haren, but has found a way to get on base, with two hit-by-pitches and a walk in that stretch.
Jeter has often been a past pest against the Angels. His career batting average against them is .332, but perhaps even more impressive, his batting average on balls in play (BABIP) is a whopping .384, his best against any AL opponent.
Yankees Bullpen What2Watch4
The Angels were David Robertson's bugaboo from 2008 to 2010, as he allowed 12 runs in seven innings against them in that span. But he pitched two scoreless innings against the Angels in the first series between the teams.
Likewise, the Angels have been an issue for Mariano Rivera in the past, who is coming off his fifth blown save of the season on Sunday night.
Rivera's 3.36 ERA against the Angels is his highest versus any team, BUT in his last nine appearances against them, he has eight saves and has allowed no runs.
Late-Game Matchup2Watch4
Torii Hunter is 3-for-16 in his career against Rivera with nine strikeouts. He's hitless in his last six at-bats against Rivera.
Hunter was 0-for-12 in the first series against the Yankees.
Angels youngsters What2Watch4
This will be the first appearance in Yankee Stadium for the impressive centerfielder, Peter Bourjos and the Angels closer, Jordan Walden.
Bourjos was 4-for-10 with a hit by pitch, a walk and two steals in his first three games against the Yankees. Walden earned a save in his lone appearance against the Yankees, striking out two in an inning of work.
Both made pretty good impressions earlier this season in New York against the Mets. Bourjos had three hits in two games and recorded one of his five Web Gems this season (he ranks second among major league centerfielders in gems, trailing Carlos Gomez, who has seven, and second on the Angels to Hunter's six).
Walden struck out the side to earn a save, throwing five sliders and netting swings-and-misses on all five.