You may have heard a reference on Tuesday's Baseball Tonight about Mike Napoli having the best OPS (on-base percentage plus slugging percentage) ever against the Yankees.
That's a fact, alebit one in which we tinker with the numbers a bit, lowering the qualifiers to 90 plate appearances such that the list provided by the Elias Sports Bureau puts Napoli ahead of the likes of all-time legends Ted Williams and Hank Greenberg, even after an 0-for in Wednesday's Yankees win.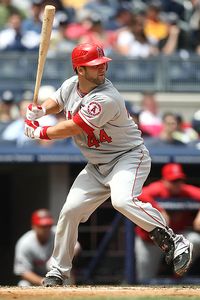 Nick Laham/Getty Images
The Yankees shut down Mike Napoli on Wednesday, a rare occurrence for them against the Angels catcher/first baseman
What's more interesting for us though is that it's a discussion starter to the topic of the best Yankees-killers of all-time. We did this for pitchers a few weeks ago when Roy Halladay took a turn against the Yankees. Now, we'll look at some hitters.
With the Royals in town, it would seem to be the easy way out to take Hall of Famer George Brett and be done with it. Brett hit .307 with 29 home runs against the Yankees, but isolate most of the heart of the Yankees-Royals rivalry and you're looking at a .366 batting average and 39 RBI in 37 regular season games from 1977 to 1980.
He's right in there statistically speaking with the likes of Williams, Greenberg, Manny Ramirez, and Edgar Martinez, and even Babe Ruth, whose stats against the Yankees were ridiculous as both pitcher and hitter prior to his acquisition.
Williams numbers, made available in full publicly by Retrosheet.org within the last couple of weeks are particularly staggering. He hit .350 against the Yankees after just entering his 20s as a rookie in 1939, then hit .350 against them in his early 40s to conclude his career in 1960.
In sum, the greatest hitter who ever lived was arguably the greatest against the Yankees -- a .345 batting average, an 1.103 OPS and 62 home runs -- basically average numbers for a guy who had a 1.000 OPS against every team he faced, but herculean numbers for anyone else.
But not everyone can be Ted Williams, and the more fun thing to do, is to find some of the more obscure names on the list. Thanks to the folks at Retrosheet and Baseball-Reference.com, we can do that.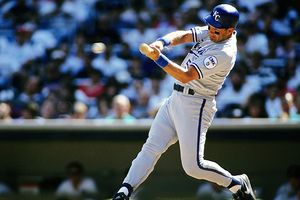 Ronald C. Modra/Sports Imagery/Getty Images
Hall of Famer George Brett makes the all-time list of Yankees-killers, having racked up numerous big hits against them in the 70s, 80s, and 90s.
Who were the Mike Napoli's and Ted Williams' of their time? Here are a few ...
Geronimo Berroa -- In the earliest days of the current iteration of the Yankees dynasty, few hitters gave Buck Showalter and Joe Torre agita like this journeyman outfielder, who hit .328 with 14 home runs, 44 RBI, and a 1.028 OPS against them.
Berroa had 20 RBI in 13 games for the Athletics against the Yankees in 1995, with one stretch in which he homered five times in seven games. Those who thought that was a fluke were greeted rudely on May 22, 1996 when Berroa dinged the Yankees for three home runs.
From 1994 to 1997, he had 20 multi-hit games against the Yankees, more than anyone else in the major leagues.
Dan Pasqua --A promising left-handed power-hitting prospect for the Yankees in the late 80s, Pasqua took out his frustrations on the Bronx Bombers after they traded him to the White Sox prior to the 1988 season.
As the Yankees faltered, Pasqua, a Yonkers native, relished beating up his former team to the tune of a .349 batting average and 1.050 OPS, to go with eight home runs.
Best OPS vs Yankees
All-Time (minimum 90 PA)
After getting pummeled by Pasqua a few times too many in 1992, the Yankees finally gave up. In their last two meetings with his White Sox, they walked him four times, and the strategy worked -- the Yankees won both.
Pasqua isn't the only former Yankee who hit his team hard after being dealt away. Jay Buhner (.957 OPS, 28 HR) dealt the Yankees their fair share of punishing blows from 1988 to 2001 after being traded to the Mariners for Ken Phelps.
Former Yankee Oscar Gamble (.344 BA, .992 OPS vs Yankees) burned them both before his acquisition (.433 BA, 4 HR in 1977) and after he was dealt away (he reached 12 times in 20 plate appearances in 1979) before the Yankees wised up and brought him back.
Jim Spencer -- Speaking of former Yankees, this first baseman got the Yankees pretty good before they finally brought him to New York. Every year for six straight seasons from 1970 to 1975, Spencer hit .300 or better against the Yankees, including four seasons in which he managed an OPS greater than 1.000.
Spencer came to the Yankees in trade prior to the 1978 season and though his best days were behind him, he helped the team to a World Series title with a steady bat and some strong defensive play.
Rip Radcliff -- Peel back to the first half of the 20th century and you come across some great baseball history lessons, and we'll round out this list with one, an aptly named hitter who cranked out a .340 batting average and 12 home runs against the Yankees from 1935 to 1943.
A wonderful biography on the Society for Baseball Research's website tells of how Radcliff was an amazing contact hitter, one who the Yankees fanned only 14 times in 614 plate appearances. as a member of the White Sox, Browns, and Tigers. He hit .383 against them from 1935 to 1938, a stretch in which the Yankees won three World Series. A number of other teams surely could have used him then.
Mark Simon is a researcher for Baseball Tonight. Follow him on Twitter at @msimonespn