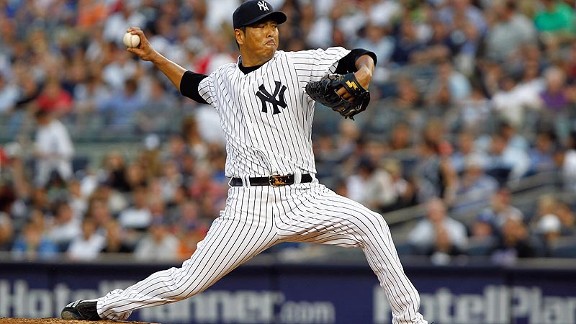 Debby Wong/USA Today Sports
Hiroki Kuroda's start last season was one of the best by a Yankee against the Mets.Matt Harvey figures to garner much of the attention on Tuesday, but let's not forget that Hiroki Kuroda is as capable of pitching a gem of a game as the Mets ace. In fact, he's had good starts against the Mets in the past.
With that in mind, let's look back at the best Yankees pitching performances in this rivalry.
We'll list the best statistically by Bill James Game Score, a stat that ranks starts on a scale that is usually from 1 to 100 (based on innings, runs, hits, strikeouts, and walks).
Andy Pettitte, 2002 -- Game Score 87 (9 IP, 0 R, 3 H, 8 K, 2 BB)
There have been two shutouts in the Mets-Yankees rivalry. One was thrown against Andy Pettitte and one was thrown by him, an 8-0 win.
The latter took 120 pitches, but it was the usually-consistent Pettitte in control. The Mets would put two men on base in only one inning and Pettitte took care of that threat with an inning-ending pickoff.
Did You Know? Andy Pettitte and A.J. Burnett are the only pitchers to throw consecutive starts of seven innings or more allowing no runs in this rivalry.
Roger Clemens, 2000 World Series -- Game Score 87 (8 IP, 0 R, 2 H, 9 K, 0 BB)
Though this game is best remembered for Clemens throwing a bat shard at Mike Piazza, it should be noted that this was a game in which Clemens pitched at the highest level.
Mets hitters had little chance against Clemens on a 49-degree night in the Bronx. He struck out four hitters in the first two innings and was never touched on the way to putting the Yankees up 2-0 in the series.
Did You Know? The highest Game Score by a Yankee in a World Series game is 97 by Don Larsen in his perfect game against the Brooklyn Dodgers in Game 5 of the 1956 World Series.
A.J. Burnett, 2009 -- Game Score 82 (7 IP, 0 R, 1 H, 10 K, 3 BB)
Burnett had his share of Jekkyl and Hyde moments as a Yankee, but against the Mets, he was consistently great. In this start, he allowed only an Alex Cora single in the sixth inning en route to a 5-0 win.
Did You Know? A dozen Yankees pitchers have made at least three regular-season starts against the Mets. Burnett had a 3-0 record and 1.33 ERA in his three starts, the best of those 12 pitchers.
Hiroki Kuroda, 2012 -- Game Score 81 (7 IP, 0 R, 1 H, 7 K, 1 BB)
Kuroda's effort was a near-duplicate of Burnett's, with the Mets getting their only hit in the sixth inning, a double by Omar Quintanilla.
The man on the mound for the other team got a bit more attention, since it was Johan Santana's first start following his no-hitter. This one didn't go well, with the Yankees tagging him for three straight homers in the third inning.
Did You Know? Over the last seven seasons, the Yankees have had two pitchers allow one hit in seven innings against the Mets. All other major-league teams have combined for two such games from their pitchers.
David Cone, 1997 -- Game Score 79 (8 IP, 2 R, 2 H, 11 K, 2 BB)
The inaugural Subway Series finale was a great game between the two teams at Yankee Stadium. The Yankees would end up prevailing 3-2 on a hit by Tino Martinez, but early on it looked like Cone's dominance against his former team would be the story.
Cone took a no-hitter into the seventh inning then tired, allowing a run in each of the next two frames. The game-tying score would be a famous one in the rivalry when Steve Bieser coaxed Cone into a balk from third base.
Did You Know? David Cone's 145 combined wins for the Mets and Yankees (81 Mets, 64 Yankees) are the second-most for a pitcher for those two teams. The most is 181 by Dwight Gooden (157 Mets, 24 Yankees), who will be helping broadcast the Harvey-Kuroda duel tonight.